Black Unemployment Dipped Again in May
The Black unem- ployment rate for May was 11.5 percent and the overall unemployment rate was 6.3 percent.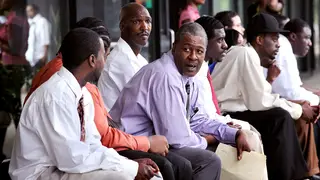 According to figures released by the Labor Department, the Black unemployment rate fell slightly from 11.6 percent in April to 11.5 percent in May. Meanwhile, the overall unemployment rate held steady at 6.3 percent.
The economy added 217,000 jobs, which is better than the 179,000 ADP had predicted in its monthly report on national job trends, but lower than the 288,000 added in April, which was a two-year record high and a welcome surprise after a tough winter. Most of May's gains came from the service sector and medium- to small-sized businesses.
In other news, the Labor Department reported that first-time unemployment claims rose by 8,000 to 312,000 last week.
"Job growth exceeded 200,000 for the fourth straight month in May, and businesses have now added over a million jobs so far this year. This month's report continued the trend of steady job growth. While the consistent pace of job gains means the economy has come a long way in recovering from the Great Recession, the president believes that more can and should be done to strengthen economic growth and expand economic opportunity," said the White House Council of Economics chairman, Jason Furman. "Continuing to press ahead using his executive authority wherever possible, the president will hold events next week focused on ways to take action to improve college affordability and support working families."
But according to House Majority Leader Eric Cantor, the White House is winging it on the economy. He also accused the administration of turning "a blind eye" to its policies' "devastating effect" and Democratic leaders of ignoring Republican-passed jobs bills.
"This morning's jobs report brought the good news that many of our fellow Americans found work last month. But one month of good news should not blind us to the long-term challenges that remain. Far too many Americans remain unemployed," Cantor said in a statement. "Far too many Americans have left the workforce altogether. Far too many Americans don't have an optimistic outlook on finding a good paying job that supports their families. Every first Friday of the month we wait with crossed fingers when more could be done to see consistent and stable growth."
BET National News - Keep up to date with breaking news stories from around the nation, including headlines from the hip hop and entertainment world. Click here to subscribe to our newsletter.  
(Photo: Scott Olson/Getty Images)