'Ma Rainey's Black Bottom' Star Colman Domingo On Why He Almost Did The Netflix Adaptation For Free
The 'Fear the Walking Dead' actor discusses his intense scenes with the late Chadwick Boseman and his passion for all things August Wilson.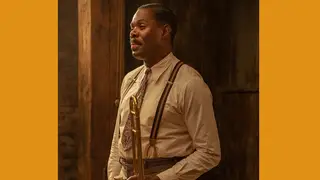 Colman Domingo is an actor's actor. Over the past 25 years, the theater, television, and film veteran has brought characters to life with his nuanced approach to the craft. From Victor in Fear the Walking Dead to Ali in Euphoria to now playing Cutler in Ma Rainey's Black Bottom, he has a remarkable ability to embody the character he is playing allowing that persona to shine through. 
In his latest role as a trombone player/band leader who is the mediator between Ma Rainey (played by Viola Davis) and the rest of the band, Domingo shows that he has the range time and time again. In addition to acting, he has also gotten behind the camera as a director, and he hosts a fun show on AMC called "Bottomless Brunch at Colman's," where he chats with his famous friends over delicious meals. 
BET.com: You are a Tony-nominated, Obie-winning theater guy, and you directed August Wilson's "Seven Guitars" on stage a few years back. What is it that draws you to his work?
Colman Domingo: August Wilson's [work] is everything you want to interrogate, discover, and play. He's one of the greatest writers ever. The text is so rich. His characters are steeped in African American culture, tradition, and colloquialisms. He writes about Black people as they truly are without the white gaze.
BET.com: What was it about Ma Rainey's Black Bottom project in particular that grabbed you?
Colman Domingo: When I got the offer, the first thing I heard was that Denzel Washington is producing, and then George Woolf is directing. Oh my God! Then, we have Santiago Hudson for the adaptation. Are you kidding me? Plus, Viola Davis is playing Ma. And Chadwick Boseman is playing Levee. Okay. You know I'm gonna do it. I would have done it for free, and I didn't even know what my role was at the time.
BET.com: I know you like to create a backstory for your characters beyond what's on the screen. What are some characteristics of Cutler that the audience wouldn't know?
Colman Domingo: I always believed that Cutler had a woman at home, but he's on the road, and they've got their issues because he's always on the road. He's trying to be a good man, and he tries not to give in to temptation. But there's a little contradiction to him, as you see in the film. He'll drink and have a little fun, but he's still a God-fearing man. Also, as a Black man from the South during that time, Cutler would not have been vegan or working out. So, I stopped working out, and I gained 10 pounds from eating everything meaty, cheesy, and greasy. 
BET.com: There are some tense scenes between your character and Chadwick's to the point where they came to blows. What was it like in between takes? Did you relax and reset, or did you stay in the moment?
Colman Domingo: We had a very similar sort of process where we stayed halfway in and halfway out. We took breaks, laughing and joking, but we were close enough to the work because we did our homework, and we knew how to tap into it pretty quickly. At the end of that one scene when he was questioning God's will, afterward, we were both quiet and just held each other.   
BET.com: Looking back on those scenes now when Chadwick's character was questioning the will of God, do you think about it differently, knowing now what he was dealing with at the time?
Colman Domingo: Chadwick was an incredible actor, so I don't want to say that I don't think that that may have influenced something in his performance. When it comes to that "God's will" scene, for people of faith, when you see terrible things happen, like churches and synagogues being shot up, famine, racial inequity, you have to believe that it is all for a reason even if you don't quite understand it. 
BET.com: What do you have coming up next?
Colman Domingo: I have a movie called Zola that was at Sundance year. I have a film with Kelsey Grammer and Julia Stiles called The God Committee. I'm going to do a third season of my "Bottomless Brunch at Coleman's" show for AMC. I wrote a new musical for the Young Vic in London. I started my production company, developing television and film projects and animation with my first-look deal with AMC. I have a lot going on in all these different spaces, and it feels really good right now.
Ma Rainey's Black Bottom premieres on Netflix on Dec. 18.