Janet Jackson to Debut a Luxury Fur Line
Janet Jackson to debut a luxury fur line. The iconic singer adds "designer" to her resume.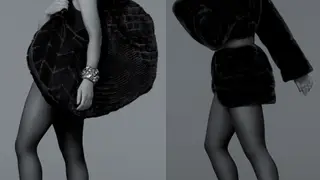 (Photo: Courtesy of Blackglama)

Janet Jackson is teaming up with Blackglama to launch a luxury fur line after fronting the brand's "What Becomes a Legend Most" campaign for two years in a row.
The singer showed off her designing skills while posing for the ads, which have been the most successful for Blackglama to date, according to the company. "When we began preparation for the second Blackglama campaign, Janet became very involved in the design process," said Mike McCrea, the label's vice-president of marketing. "The result was an amazing collection of Blackglama garments and accessories that reflect Janet's tremendous sense of style and fashion...this is one of the most visually appealing and innovative Blackglama collections I have seen."
The "Janet Jackson Blackglama Collection" is a 15-piece line of outerwear and accessories that includes fur coats, jackets, vests scarves and gloves all inspired by the artist herself. 
"The art of fashion is one of my great passions," Jackson said in a press statement. "I've worked for years to bring a collection into the world. Partnering with Blackglama is very exciting."
Janet's fur line will be available in November in the Fur Salon at select Saks Fifth Avenue and the Maximilian Fur Salon at select Bloomingdales.
BET.com always gives you the latest fashion and beauty trends, tips and news. We are committed to bringing you the best of Black lifestyle and celebrity culture.