Someone Very Brave Just Robbed Queen Latifah
Her Mercedes was jacked in Atlanta.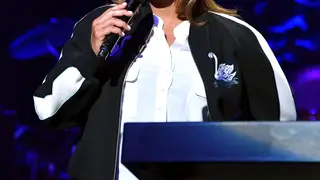 Even celebrities with security measures in place aren't immune to being a victim of crime 100 percent of the time.
Queen Latifah, for one, has unfortunately recently found herself at the heart of a recent carjacking.
As reported, the rapper-turned-actress was dealt a less-than-fortunate hand prior to the Christmas holiday.
According to the reports, her security guard had taken her Mercedes S63 to be filled up at a gas station in Atlanta when it became the latest target in a recent string of car break-ins.
As reported by TMZ, while Latifah's security guard was pumping gas, someone pulled up in a BMW and someone else really went for it, with both cars quickly speeding off and fleeing the scene.
Latifah was reported to be solely concerned about a specific contract that was left in the vehicle, but luckily she herself was not present at the scene of the crime.
Thankfully, this story ends on a positive note, with her car being found by authorities in a local apartment complex, the contract untouched and the car only receiving minor damage.
Interestingly enough, the person who made off with Queen Latifah's car carelessly left behind lemonade and fruit punch bottles. Talk about brave and forgetful.