Beauty Influencers On TikTok Offering Makeup And Skincare Tips
These content creators have mastered creating easy-to-follow videos.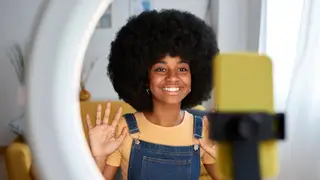 The beauty world can be hard to navigate. However, in the words of the trending TikTok audio, "Never back down, never what? Never give up!" Scrolling through the popular app to find beauty influencers to show us their ways can take hours. Allow us to provide you with a list of the most trusted beauty gurus to follow. Everything from hair, makeup, and outfits, we guarantee you these content creators don't miss! Here are our top recommendations for beauty TikTok. 
Monet McMichael

This wouldn't be a proper beauty listicle without mentioning Monet Michael. Her page contains relatable girl moments that will have you returning for more. But it's not just her ready-with-me content that will capture your attention but also her infectious positive energy. 

Aaliyah's Face

Are any high-maintenance girls looking for their next online bestie? Well, head on over to Aaliyah Face's page. She's constantly giving us an insider's point of view to her designer pieces and luxury makeup looks. We love it when she includes her community on whether her purchases should stay or go! 

Kirah Ominique

Sephora is a pretty overwhelming place. However, with content creators like Kirah Ominique, picking the perfect beauty products just got a little easier. Plus, she is quick to remind us that at the end of each day, makeup removal is a must, even when you are not feeling it. 

Jackie Aina

Jackie Aina is all about luxury and soft living. From home decor to her everyday style, Aina is the big sister who will have you give up your "strong girl era" and trade it in for a life of ease and elegance. You'll want to check her out if living lavishly is on your to-do list.