Don Lemon Slammed After Jussie Smollett Testifies News Anchor Tipped Him Off About Case
Many are calling for the CNN host to be fired.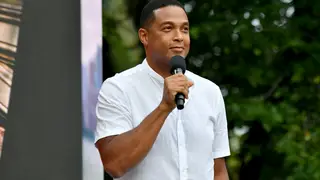 Critics are angered and some are even requesting that CNN cut ties with its longtime employee Don Lemon after the award-winning broadcast journalist failed to make public his connection to actor Jussie Smollett while reporting on his alleged hate crime attack.
The former Empire star is currently on trial, where he stands accused of orchestrating the 2019 hate crime attack on him in Chicago. During a recent hearing, Smollett testified that the veteran news anchor cautioned him about the Chicago police after he filed his police report, telling Smollett that the cops were allegedly dubious of the actor's claims he was beaten and later doused with bleach by two men.
On Monday (Dec. 6), the Alien: Covenant actor told jurors that Lemon tipped him off about the Chicago Police Department and how they did not believe the actor's story that two men beat him and later tied a noose around his neck, Newsweek reports.
The actor pleaded not guilty to six counts of disorderly conduct related to filing a false police report and claims the attacks happened precisely as he said. He continues to maintain his innocence.
While covering the trail later that night on his series Don Lemon Tonight, the CNN host discussed day 1 of hearings with fellow CNN reporter Omar Jimenez. Neither anchor acknowledged Lemon's alleged conversation with Smollett in the segment.
This upset people on social media, many of whom called for the network to terminate the 55-year-old, including columnist Tim Young who wrote on Twitter that, "after Jussie Smollett's testimony that Don Lemon tipped him off to the Chicago PD not believing his story... he should be the next to get tanked from CNN..."
Young was seemingly referencing the television journalist Chris Cuomo, who was ousted from CNN this past weekend. The now-former presenter of Cuomo Prime Time was axed from the network on Friday (Dec. 3) after an attorney accused him of sexual misconduct against a woman, just months after his older brother, former New York Governor Andrew Cuomo, resigned over a dozen similar allegations.
"Don Lemon was texting Smollett every day with updates about what the Chicago police were doing. He needs to be fired," wrote another person online.
Though Lemon acknowledged that the actor was "innocent until proven guilty," he warned that the multi-hyphenated star will have "squandered the good will of a whole lot of people" if it turns out his claims were false.
"He even lied to a lot of people... including me. And that's not cool," Lemon had said, according to Fox News. "He squandered the good will of very high-profile people who one day may be running this country like Kamala Harris and Cory Booker and people like President Trump."
He has yet to address his connection to Smollett publicly.