Ready, Set, Shop!: 10 Black-Owned Brands To Support This Amazon Prime Day
Amazon Prime Day starts on July 12 and ends on July 13.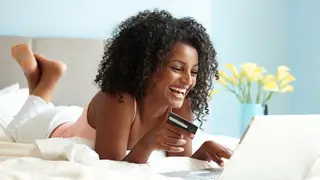 Ready, set, shop! Today is the official start of Amazon Prime Day, and we'll be the first to confess that the incredible deals are making it difficult to resist the impulse to buy everything on our wish list.
At BET, we want to remind you that there's no better time than now to fill your cart up with fashion, beauty, and lifestyle items from Black-owned businesses. During the biggest shopping days of the year—July 12 and 13—show love for the culture by finding new brands to support throughout the year. 
To make your online shopping experience less stressful, we've compiled a list of Black-owned brands that are offering amazing deals during the major two-day shopping extravaganza. Cheers!
Mr. Cory's Cookies

If you're looking for a sweet treat to take away from the guilt of spending your coins, consider getting your hands on Mr. Cory's Cookies 2 dozen homemade chocolate chip cookies. The homemade-style cookies not only taste good but also features ingredients that won't have you feeling yucky later.

EPIC Everyday Store

EPIC Everyday Kids are empowering little ones to love their differences and embrace their unique style with trendy hooded beach towels. We love the celebration of mocha-hued skin tones and curly hair textures!

CRAFTS AND THE CITY Store

Who doesn't want to bring the spa experience into their living room? To keep your feet soft and sandal ready, get your hands on SOO JELLY pedicure spa packets that promise to heal cracked feet.

Black Card Revoked

If you haven't gotten your hands on the #1 Black culture trivia game in America, there's no better time than now to shop the nostalgia-filled game! 

Hairbrella

Hairbrella is a must-have to protect your hair from humidity, drizzle, and unexpected summer downpours. We especially love the brand's XL rain hat, which is perfect for voluminous hair. Did we mention they are all satin-lined? We know...it's so well thought out! 

BLK & Bold

Need a quick pick-me-up before taking the plunge on day no. 2 of Prime Day? Consider purchasing BLK & BOLD's Rise & GRND coffee mix. It is worth noting that the brand proudly contributes 5% of their profits to support at-risk youth both locally and nationally.

Beautifully Warm

While basking in the sun is enjoyable, you have to protect yourself from harmful rays. The Beautifully Warm sun hat has everything you need to protect your hair and face from sun damage while also adding a pop of style to your look. So classy!

Capital City Mambo Sauce

No BBQ is complete without the perfect sauce! The Capital City Mambo sauce has racked up major cookout points for its ability to take wings, chicken, pork, beef, seafood, and burgers to the next level. So yummy!

A Dozen Cousins Meals

Speaking of cookouts...no backyard fest is complete without a side of well seasoned beans. A Dozen Cousins delivers the flavorful marinated beans in 30 minutes. Quick and simple!

ByChari

Stackable earrings are all the rage this summer! To help you master the trend, cop these fashionable hoops ByChari that will instantly make any look sassy and classy. It's the versatility for us!