You Won't Believe What Bill Cosby's Next Alleged Job Will Be
This is beyond ironic.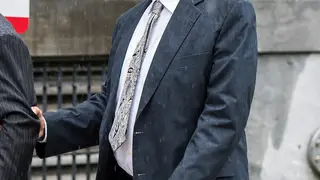 Following the mistrial in Bill Cosby's highly publicized and controversial sexual assault case, many assumed the disgraced comedian would consider himself lucky and use this opportunity to recede from the spotlight. Turns out, the 79-year-old has very different plans. 
According to Cosby's spokespersons Andrew Wyatt and Ebonee Benson, the fallen icon plans to spend his time educating young people about — wait for it! — sexual assault. Specifically, how to avoid being accused of it. 
"We're going to talk to young people, because this is bigger than Bill Cosby. This issue can effect any young person, especially young athletes of today, and they need to know what they're facing," Wyatt, a spokesman for Mr. Cosby, said. 
Benson continued, "Laws are changing, the stature of limitations for victims of sexual assault are being extended. So this is why people need to be educated on — a brush against the shoulder, anything at this point can be considered sexual assault and it's a good thing to be educated about the laws."
See the entire video below:
The jury on Cosby's case could not come to a conclusion despite 10 out of 12 jury members agreeing to convict. Despite that, it seems he will continue to maintain his innocence until proven otherwise.
See the inside scoop on Coby's trial with BET Breaks, above.