Michelle Obama And Friends Pen Open Letter Calling All Americans To Fight For Voting Rights
The former First Lady and her organization, When We All Vote, demand the passing of the For the People Act.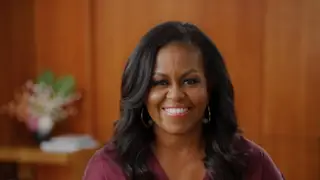 She may be out of the White House, but former First Lady Michelle Obama has not ceased in her passion for public service. Despite letting the world know that she has no intention of running for office any time soon, Mrs. Obama continues to advocate for all Americans who should have the ability to fairly execute their right to vote.
Along with several celebrity friends, co-chairs, and ambassadors of the non-partisan organization When We All Vote, Mrs. Obama has written an open letter to all Americans to grab ahold of your power and take action by calling, emailing or even tweeting your local Senators to support the passing of the For the People Act. This important piece of civil rights legislation has the power to expand voting rights and transform the way campaigns are run and organized.
In her letter, Mrs. Obama uses the insurrection on the Capitol building on January 6 as the reminder that a threat to America's democracy still looms even though many of those who participated in that violent mob have since been arrested. While last year's presidential election saw a record number of voter engagement, now is the time Black and Latinx communities are feeling the fall out. More than 250 bills in 43 states have since been introduced to specifically make it harder for those groups and others to vote by limiting options for early voting and mail-in ballots. Statistically speaking, this is most likely to severely impact communities of color as well as the elderly and younger generations.
"This bill is not about choosing one party or one issue over another. It is about commonsense reforms and best practices that make our democracy more open, more fair, and more inclusive. It is about reaffirming our founding principle that we can chart our own course as a nation," Mrs. Obama wrote in her letter.
"The For the People Act is about moving closer to the America we aspire to be—a land of opportunity where every voice is heard and valued."
The For the People Act promises to expand options around voter registration, how and when Americans vote, restoring rights to those with felony convictions, make Election Day a national holiday, and ban patrician gerrymandering among a host of other progressive resolutions.
Joining Mrs. Obama and When We All Vote Chairman of the Board Valerie Jarrett in this call to action are Tracee Ellis Ross, Chris Paul, Kerry Washington, Lin-Manuel Miranda, Selena Gomez, Janelle Monáe, Shonda Rhimes, and those who signed the petition include   Alicia Keys, Amandla Stenberg, Ayesha Curry, Carmelo Anthony, Chrissy Teigen, Common, Issa Rae, Jada Pinkett Smith, Jay Ellis, John Legend, Laverne Cox, Shaquille O'Neal, Stephen Curry, Taraji P. Henson, The Roots, Wanda Sykes, Whoopi Goldberg, Yara Shahidi and Yvette Nicole Brown.
View Mrs. Obama's full letter bellow:.