Everyone's Ugly Crying After Hearing Why the Same Player Who Defeated UNC Last Year Cheered Them on Last Night
Villanova's Kris Jenkins and North Carolina's Nate Britt have a heartwarming story.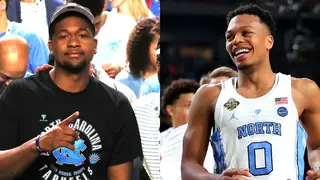 The sight of Kris Jenkins sitting behind the University of North Carolina's bench during its national title win over Gonzaga last night was mind-blowing for many fans. After all, it was Jenkins who drained a 3-pointer at the buzzer to lift Villanova over the Tar Heels in last year's NCAA championship contest. So, it had to be weird to see him with a UNC T-shirt on behind the Tar Heels' bench a year later.
But Jenkins had good reason to cheer on UNC, considering he's the adopted brother of Tar Heels' guard Nate Britt. The two became friends through basketball and the Britts actually adopted Jenkins in 2007 with the permission of Kris's birth mom, making the senior guards legal brothers.
So, the story of Jenkins sinking that dagger of a 3-pointer to defeat Britt and UNC last year only to watch Nate and the Tar Heels win the title this year was an overwhelmingly touching story for college basketball fans tuning in to the big game last night.
Here's how they reacted to the touching Jenkins/Britt story. Champions a year apart!
It definitely was weird to see Kris Jenkins behind UNC's bench with Tar Heels gear on

And the nation more than took notice.

Oh, how the tables have turned ...

Oh, what a difference a year makes.

Kris Jenkins's 1-Year History With UNC Moved This Guy to Tears

Look How Happy Kris Was For His Brother Nate Winning His Own National Title

Touching moment to say the least.

Even UNC Fans Had To Admit That the story of Kris Jenkins and Nate Britt Is Special

But Still ...

As nice as their story is, Kris will always have bragging rights over Nate for this dagger.