Nipsey Hussle Will Never Be Forgotten
The West Coast rapper's legacy extended beyond music.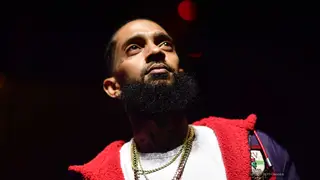 During my tenure as an associate producer for HipHopDX in 2017, I embarked on a mission to create a video series titled From The Westside. Unfortunately, it was short-lived and only lasted a single episode due to the many obstacles that plagued video content creation. However, I was able to produce an impressive debut episode, which focused on the West Coast's most talented producers who contributed to Grammy Award-nominated projects at the time. In that episode, I interviewed some of the industry's most iconic names, including THX (Jill Scott, Anderson. Paak), J LBS (Kendrick Lamar, Dr. Dre), Terrace Martin (Snoop Dogg, YG), and MyGuyMars of 1500 or Nothin' (T.I., Frank Ocean).
Among the numerous interviews conducted during that time, one that stood out was with the duo Mike & Keys. They were famous for their work on BJ the Chicago Kid's In My Mind album and Mya's Smoove Jones. Both projects were nominated that year for Best R&B Album.
It was in late January of 2017, during the recording of this interview, that I was introduced to Nipsey Hussle. At that time, Hussle and Mike & Keys were collaborating on music that would eventually shape his Atlantic Records debut album, Victory Lap. I was captivated by Hussle's sharp focus and clarity as he articulated his plans for the album's rollout. It was an unforgettable experience for me.
Then again, he was the same individual who upended the music industry through his Crenshaw mixtape several years prior. The mixtape featuring guest appearances from Rick Ross, Dom Kennedy and James Fauntleroy to Slim Thug and Z-Ro alongside production by 9th Wonder, Mike & Keys and 1500 or Nothin among others stood out on its own musically. However, making a limited first edition of 1,000 for $100 each through his Proud2Pay initiative set a trend that even major label artists would follow eventually.
Because of Hussle, albums being sold in bundles is a fairly common thing now. Before then, he was still a rising rap star who had earned the coveted XXL Freshmen title in 2010 outside of having notable features with Drake, YG and others. That doesn't even count the well received projects from Slauson Boy Vol 1. to his 2018 Grammy Award nominated Victory Lap.
During the 2019 Grammy Weekend, it was pretty cool watching the large crowd of people inside The Peppermint Club during Hussle's Grammy party in celebration of his nomination. I even remember the sight of Hussle taking shots of D'usse with Hov himself having a blast. The night even ended with YG coming on stage for both of them to perform hip hop's official statement against Donald Trump "FDT" with 1500 or Nothin as the backing band.
There was also the entrepreneurial side of him that usually had some community aspect. That includes being one of the first rappers to catch on to the cryptocurrency wave, helping create a neighborhood cowork space, the innovative Marathon Clothing Store and multiple Fatburger franchises. Dubbed a "smartstore" by Hussle, the store located in the same neighborhood he grew up in allowed customers to buy merchandise and use an app to view exclusive content.
On the way home from work, I'd visit the Shell Station off Crenshaw and Slauson frequently for gas, snacks, Black&Milds and the occasional car wash. Besides being one of the most inventive clothing stores in Los Angeles, that strip mall it layed in also featured a barber shop and a burger joint. Beyond that, it was an established hood water cooler. Anyone who hung out around that area and were fans of Hussle knew that sense of community was something he wanted to eventually expand upon.
Since his death at the hands of a man recently sentenced to life in prison for the crime, you can't really go anywhere in Southern Los Angeles without seeing various tributes to his greatness. There's something really cool about riding the newly built K-Line through Crenshaw and landing at Nipsey Hussle Square station on Crenshaw and Slauson. Local bookstore Malik Books literally has a section dedicated to some of his favorite books while popular health-focused eatery off Slauson and Overhill Simply Wholesome even renamed his go-to drink after him.
Hussle was more than a charitable businessman and artist. He was a son, brother, father and someone who touched not only an entire community but the world.