Eric Holder Sentenced To 60 Years To Life In Prison For Nipsey Hussle Murder
He was found guilty of killing the Crenshaw rapper last July.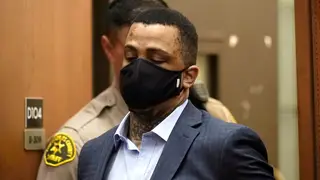 On Wednesday (February 22), a Los Angeles judge sentenced Eric Holder, the man convicted of murdering Nipsey Hussle in March 2019, to 60 years to life in prison after hearing testimony to the immense cost of the brutal killing.
According to the Associated Press, Superior Court Judge H. Clay Jacke II handed down sentence to the 33-year-old, who was found guilty last July of first-degree murder of the Grammy-nominated hip-hop artist and community leader outside of Marathon Clothing story he founded in South Central Los Angeles.
"I am very mindful of what was presented as to Mr. Holder' mental health," Jacke said, the AP reports. "I am also mindful of the devastation caused to the victims and their families. I believe this sentence balances the two."
Jacke sentenced Holder to 25 years to life for the murder, an additional 25 for a firearm sentencing enhancement and 10 for assault with a firearm. He also provided other sentencing additions, ordering that the others run concurrently.
Holder did not reportedly react to the sentencing being read, staring straight ahead throughout the proceedings, according to the AP.
The 32-year-old had also been charged with two counts of attempted first-degree murder because two bystanders were hit by gunfire, but according to the  Associated Press, the jury found him guilty of two counts of attempted voluntary manslaughter instead.
During the trial, prosecutors alleged that Holder's shooting was planned out in advance. Holder's getaway driver, Bryannita Nicholson, also testified and detailed the events that happened before and after the shooting. Deputy District Attorney John McKinney said there was "no doubt" Holder knew he'd kill Hussle, born Ermias Asghedom, adding he shot the rapper at least 10 times and kicked him in the head before running away.
McKinney detailed the dispute between the pair with Hussle hearing that Holder was a snitch and wanted to "clear that up," the AP reports. The deputy district attorney said the pair, along with two of Hussle's friends, had a "cool conversation" with Holder prior to the attack. He was accused of returning to the scene and murdering the rapper after feeling disrespected during that prior exchange.
A week before the verdict, Holder was attacked by "multiple individuals" while in a jail holding cell, allegedly cut by a razor and taken to the hospital, where he received an MRI and staples in the back of his head.