New Book On 'In Living Color' Provides A Thorough History Dripping With Finesse
This book doesn't clown around.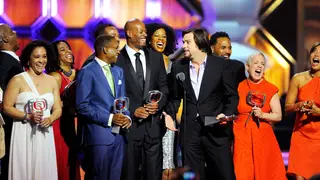 On April 15, 1990, the pioneering sketch comedy series In Living Color premiered on the Fox television network. Conceived by actor and comedian Keenen Ivory Wayans and cast with many of his family members, the show would change American television. From the theme song (performed by the late Heavy D) to the "Fly Girl" dancers and the DJ (who didn't actually DJ) SW-1, it was infused with the burgeoning hip-hop culture and was a literally more colorful contrast to shows like Saturday Night Live. 
Thanks to indelible characters like "Homey The Clown," "Fire Marshall Bill" and "Wanda," audiences were introduced to future Hollywood powerhouses like Jamie Foxx and Jim Carrey. In Living Color dominated ratings in its first two seasons and won an Emmy for Outstanding Variety, Music or Comedy series in 1990. 
The last episode of In Living Color aired on May 19, 1994, but its legacy and impact are undeniable. Just earlier this year singer Bruno Mars released a remix to his song "Finesse" with Cardi B and paid homage to In Living Color in the video and performance at The Grammys. "In living color was it growing up. Pop culture, Comedy,  Fashion, Dance & all y'all superstars," the Grammy winner Tweeted. "There has never been another show like it."
So right (write?) on time, journalist David Peisner's book, Homey Don't Play That: The Story of In Living Color and The Black Comedy Revolution is out in stores today, offering an exhaustive history of the show, its creators and the culture that inspired it. BET caught up with Peisner to discuss his exhaustive documentation of a critical moment in Black history and culture.
Your timing for this book is impeccable. What did you think of Bruno Mars "Finesse" remix video"?
DP: I'd love to say that it was a coordinated campaign by Bruno and myself and I appreciate him doing all of that for me, but it was completely dumb luck on my part. I guess it sort of validates the idea that this show still matters to people. People are still thinking about it and fondly about it. I wish that I could have Bruno Mars do book readings with me but I realize that's probably a bridge to far. But the show still matters to people 25 plus years later.
When did you first watch In Living Color?
DP: I'm 44 so I was 17 when the show came out. I do remember getting turned on to it pretty quickly. I was a white kid growing up in the suburbs of Detroit. I wasn't leading a totally sheltered life. I went to a high school that was reasonably diverse…
DP: Cranbrook. It's famously used as a diss line in Eminem's 8 Mile. He's making fun of the guy in the climactic [battle] scene because he went to Cranbrook. But I'll speak up for Cranbook, it was a pretty good place to me.  But growing up, while I knew about Run DMC and LL Cool J I probably didn't know about KRS One or A Tribe Called Quest back then. And the show was giving stuff like that. I'm sure I didn't know anything about Louis Farrakhan until I saw the "Wrath of Farrakhan" sketch. The show opened you up. This was pre-internet. Culture wasn't just sitting there at your fingertips waiting for you to find it. You had to know what you were looking for. In Living Color was one of those things that pointed you in the right direction. All that said, it did all that stuff to me without me noticing. It wasn't until 2015 when I started thinking about this idea and this show and this moment in time in the early 90s when hip-hop was going from being a relatively fringe thing to being at the center of popular culture. And it wasn't just the music, it was Arsenio, Spike Lee, Chris Rock and John Singleton. It was all churning at the moment. I started to see the show as a way to tell the story of that time and that moment and how culture was changing.
How long did it take you to finish the book?
DP: The book started as a magazine story back in 2015. But very quickly as I started working on it I realized there was way more here than a magazine story. I was ridiculously over reporting that story and I realized there was a lot here. I worked on it for about a year and a half.  I talked to most of the cast and the only major cast member I didn't speak to was Jamie Foxx. But I fill it out with a lot of perspectives.
While the show is the focus of the book, you use it as a conduit to discuss the broader impact of Black TV and comedy and its evolution.
DP: When I was writing the [magazine article] that stuff was kind of in the background, but there wasn't enough space for it. But it made for a book that I wanted to write, there had to be more to it. And that took research, scene setting and what else was going on. The show did a whole episode about the LA Riots, but those were important regardless if the show did anything about them. That's what was going on. That was a gargantuan story.  You think about Rodney King and that video…
Pre Instagram, pre social media…
DP: And we see it more and more because of cellphones and all that stuff, but that was kind of the beginning of it.  
What I found interesting were the people who didn't make the show. Do you get into the why?
DP Yeah, sure. I talked to Keenen about that first season and Martin Lawrence, Chris Rock and JB Smooth all auditioning. All of these people who were auditioning and Keenen said they just weren't ready. Of course they went on to become great comedians. Was it a mistake not to hire Martin Lawrence? You could make that argument, but Martin got his moment and a former In Living Color writer [worked] on Martin, John Bowman. I think there were levels of auditions so there were people who auditioned kind of early on in the process who didn't make it far and others didn't make that last [hurdle]. 
Another interesting note was their live Super Bowl halftime special. Its popularity prompted the NFL to start booking entertainers at half time. 
DP: The whole idea of a doing a Super Bowl halftime show was unbelievably audacious. The Super Bowl was the biggest television event of the year. Other stations just ran reruns against it because it wasn't worth programming against. So this idea of 'we're gonna steal the super bowl audience at half time' was really sort of crazy and no one knew if it was going to work. And it did. Those "Men On" sketches were as popular as anything on the show, but some of the stuff has not aged well. Because the way we think of gay people and gay culture has evolved a lot. It was never mean spirited, I've seen stuff that aged worse…but that sketch wouldn't make it on the air today. Those guys David and Damon were always trying to get the other guy to break, to lose it in the middle of the sketch. And because that Super Bowl sketch was live there was this whole thing where they wanted to make the other guy lose it. So Damon had those jokes about Richard Gere and the gerble and Carl Lewis being gay, he pulled it out at the moment. It wasn't in the script. But Fox was really nervous about the show going out live. One of the executives was in the booth that night and they had a 5-second delay if something wasn't going to pass standards.  And when they did those jokes the exec was laughing so hard he forgot to nudge the standards guide to hit the button. So it went out. It was JUST the right amount of scandal. Carl Lewis and Richard Gere's people were kind of upset but it never crossed the line of being a real problem.
Tupac was a friend of the show but was never a musical guest. Why? 
DP: So Tupac and Rosie Perez were friends. They were tight. Tupac was generally a friend of the show, he'd be back stage. His first two albums had come out and he was gonna be booked as a musical guest [in season 4]. He was in the parking lot with some of his friends smoking weed in his limo, and the limo driver wasn't cool with it. They get in an argument about it and the limo driver goes around to the trunk of the car and Tupac's friends jump him, beat the crap out of him and he calls the cops. David Alan Grier tells the story really funny, he comes out of his dressing room thinking the cops are extras. And he starts yelling asking why all of these extras are back here. The stage manager says no, those are cops and they're here for Tupac. It was total chaos. Rosie is screaming and they haul him away. He would appear later in season 5 in a sketch, but that's why he was never a musical guest.
What has the response been from the Wayans family?
DP: I sent the finals out about a week ago. I hope [Keenen] likes it. I have nothing but the greatest respect for the guy and I think the book salutes him in the right way. 
Homey Don't Play That: The Story of In Living Color and The Black Comedy Revoultion is available online and in stores now.