Kyle Freeman: From the Baptist Church to the Broadway Stage
He will play the Lion in the stage reboot of 'The Wiz.'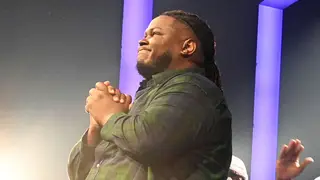 If you don't know Kyle Freeman's name now, he is about to be the name on everybody's lips. The Miami, Florida native got his big break in the Tony-winning production of A Strange Loop. And now he is about to conquer the stage again as the Lion in the iconic musical The Wiz, which will tour this fall. The musical will then have a limited run on Broadway in 2024. 
The 29-year-old got his start belting out big notes in the Baptist church — with his talents eventually bringing him to musical theater. In his first interview with BET.com, Freeman talks The Wiz, vocals and how he maintains his courage.
BET: You are playing the Lion, which was an unforgettable character in the Broadway show and the movie. As an actor and singer, how do you approach this famous character?
Kyle Freeman: I approach every role differently. But I think I would just approach him in an honest way. I would just try to tell the truth of what he is dealing with. It's in the title. He's a cowardly lion. He doesn't have much courage and I can identify with that. I haven't had courage. And even with me — coming out and being a Black gay person, that took courage. So I identify with the lion in that sense. I will approach him as a funny character, but also as a person dealing with something that's very real, for a lot of people. And that's finding the courage within yourself to live authentically and to stop doubting yourself and know your worth. 
BET: When you're in the grind of entertainment and show business, how do you find your courage?
Kyle Freeman: I think about Kyle, who was in Miami, Florida in his parents — 12 years old, feeling misunderstood, wanting to do theater. Not necessarily knowing how he would make that happen, but fighting for it and believing that he could. Just to see myself now, my child self would be amazed with what I've been able to do with my life. I try to be courageous for the people who don't have the ability to just yet, or haven't seen their fullest potential. That's how I find the courage to keep working in the industry that I'm in. I try to think of the people who don't have a voice or don't have the platform to live out this dream that I get to — and that's what gives me the courage.
BET: You have an incredible voice that ranges from musical theater to church. Talk about your voice and how you intersect the church and musical theater.
Kyle Freeman: I can say that people have always celebrated my tone and my approach to singing different things. I love the voice. So there is this kind of musical theater, tone and dictation, that you have when you perform. I try to honor the piece and then I try to bring myself to it. I'm a boy who's from the baptist church. Whitney Houston taught me how to sing! [Laughs] A lot of people who are amazing vocalists who come from the church or have R&B backgrounds shaped my voice. So I always try to respect the material that's written in musical theater form. But I'm bringing myself to it. Because at the end of the day, Black folks want to hear Black folks sing how Black folks sing. [Laughs] I've tried to honor that too. Because shutting that down, it's no fun.
BET: Tell me about the incredible cast, which includes Deborah Cox, Wayne Brady, Avery Wilson and so many others.
Kyle Freeman: Yes! We got a chance to do some workshops a few months back, and we all met each other. And we were like, oh, everybody's dope. Not just with their talents, but as human beings. I didn't know who was in the cast until I walked into rehearsal! Avery Wilson, Deborah Cox, Wayne Brady — I was like, we're about to win a Grammy. I'm claiming it. You cannot have these people all together singing the music that we get to sing and with the arrangements that they've created — people will not be the same. I'm telling you now, these voices with this music and these arrangements are outstanding.
BET: What about the story of The Wizard of Oz and The Wiz resonates with you the most?
Kyle Freeman: I think what resonates with me is Dorothy's journey of figuring out that everything that she ever needed was already within her. I think a lot of times, when you're in this industry or doing whatever you do, you get dazed and confused with all the other things that you think you need. You never just take a moment to ground yourself and look within yourself. [Dorthy] had the heart. She had the brains to be the person that she imagined in her dreams. She always had the courage to do it. She just had to look within herself and believe in herself. If you believe in yourself, that is the best way to start. Other people help you along your journey. But you have to be the person that believes that you can get to the finish line. That's what I love about the story. Every night she goes on this journey to come back to herself and that is beautiful.