Deborah Cox Returns to Broadway for 'The Wiz'
The Canadian-born star joins Melody A. Betts, Wayne Brady, Avery Wilson, and more.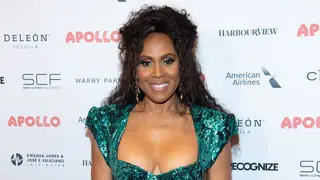 Renowned singer, songwriter, and actress Deborah Cox is set to make her grand return to Broadway.
The multi-talented Canadian-born star recently shared the exciting news with her fans through her social media platforms, announcing her upcoming portrayal of the enchanting good witch of the South in the highly anticipated Broadway production of The Wiz.
"I am so proud to announce that I will [be] back on Broadway in The WIZ!!! I will be portraying the role of Glinda!" the 48-year-old wrote in a Twitter post early Tuesday morning (June 13). We gon be easin down the road first!! I'm excited we'll be bringing this show to life for a whole new generation! @thewizbway."
Cox joins Melody A. Betts, who was tapped for the role of Aunt Em and Evillene and previously announced stars Wayne Brady as the Wiz, Kyle Ramar Freeman as the Lion, Phillip Johnson Richardson as the Tinman, and Avery Wilson as the Scarecrow.
Cox, who is reportedly working on her seventh studio album, was last seen on Broadway in the 2013 revival of Jekyll & Hyde. Nearly a decade before, she stepped into the title role of Elton John's Aida.
The tour for The Wiz will begin on September 23 at Baltimore's Hippodrome Theatre, with a planned arrival on Broadway sometime in the spring of 2024.