You Won't Believe What Farrah Abraham Is Saying About Nicki Minaj Now
She just can't let this one go.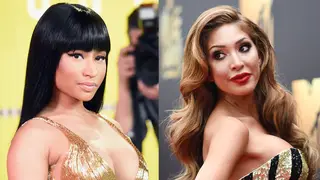 The beef between Teen Mom alum and porn star Farrah Abraham and Nicki Minaj has been one of the most random of the year, and apparently it's not over yet. Months after the two women got into it on social media over Abraham's parenting, the reality star couldn't help but put the femcee on blast one more time given the chance.
It went down on the Shade Room at the MTV Movie Awards. Asked if she and Nicki are cool now, Abraham responded, "That's been over with, but I have to say that I'm really disappointed in a woman acting like that. My God, there's just been so many disappointments, not just with me but other public figures, other artists, and it's just f**king shady to do that sh*t."

Mind you, this is the woman who had her 6-year-old daughter post a video on Twitter saying, "Nicki Minaj is a total loser."
The whole debacle started right after the New Year when Nicki criticized Abraham's parenting style and called her out for disrespecting her own mother, Debra. "Your mother didn't open her legs and have that child," Minaj tweeted. "Be happy she's helping! Stop talking to her like that on tv u lil c**t @F1abraham."
The Teen Mom star clapped back, tweeting, "Cause your [sic] a parent right? Your videos look like porn. Horrible good luck being negative #Godbless busy making TV." Click here to watch Farrah's full comments about Nicki.
Get up to speed on the ugly exchange with BET Breaks, below:
BET.com is your No. 1 source for Black celebrity news, photos, exclusive videos and all the latest in the world of hip hop and R&B music.