Report: T.I. Is Suing Tiny Over Their Divorce
Looks like their cease fire is over.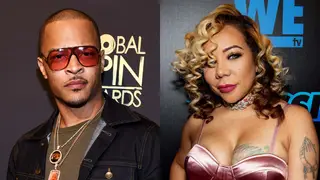 While it appeared as things between T.I. and Tiny were going well, new reports show that their divorce proceedings have just gotten a bit nastier, with the rapper counter-suing the Xscape member.
According to theJasmineBRAND.com, the Atlanta MC issued his estranged wife a counter-suit seeking divorce, himself.
Tip reportedly filed the counter-suit around the same time he filed his response to Tiny's divorce, which was on July 10. Through his own filing, he is seeking his own terms for the divorce.
This comes on the heels of Tiny's filing back in 2016, where she stated that their marriage was "irretrievably broken with no hope of reconciliation." The singer is currently seeking primary physical custody and joint legal custody of their three children, together. She is leaving the amount T.I. will be required to pay in child support, visitation and health insurance up to the judge.
Tiny also required that her estranged husband hand over all of his financial records of their joint money and investment accounts. According to the petition, throughout the course of their marriage, the couple purchased several automobiles, which she wants to be split between them in the divorce.
In addition to that, she also is seeking temporary and permanent alimony consent with their standard of living and asked the judge for Tip to cover their marital debt since he earns more than she does.
See Tiny recently serenade T.I. with BET Breaks, above.