California Governor Gavin Newsom's Pick To Replace Kamala Harris In Senate Draws Anger And Criticism
Secretary of State Alex Padilla was selected for the top job, but many felt a Black woman should have been the governor's only choice.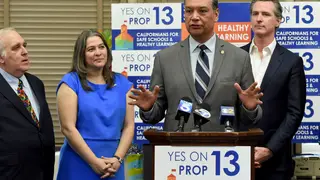 California Gov. Gavin Newsom has selected Secretary of State Alex Padilla to serve out the remainder of Vice president-elect Kamala Harris' term in the U.S. Senate and that decision has disappointed many who felt that a Black woman would have been a wiser decision.
Padilla becomes the first Latino to represent the state in the senate, but the choice also means that there will be no Black women in the Senate, and one less woman in it.
Although Padilla was always the frontrunner for the job, a favorite by many was Rep. Barbara Lee, the Oakland congresswoman, who congratulated Padilla's ascension to the position, but also thanked her supporters who wanted to see her get the job.
Despite that, others hoping that Harris would be replaced by another Black woman, spoke out about what they felt was a let down.
"This is a real blow to the African American community, to African American women, to women in general, and I think it's really challenging to put it in words," San Francisco mayor London Breed told the Associated Press. She, along with others including Lee; Rep. Karen Bass of Los Angeles; Oakland Mayor Libby Schaff; California attorney general Xavier Becerra and Rep. Ro Khanna, an Indian-American who represents Silicon Valley had all been thought of to fill Harris' spot.
"Many people believe the governor will pay a political price," Kerman Maddox, a Democratic consultant and fundraiser who is Black, said in an email message to the AP. "It's a terribly insensitive decision" with the nation in the midst of a reckoning over racial injustice.
"If Governor Newsom thinks our disappointment with the Kamala Harris replacement will be tempered by appointing an African American woman to be California secretary of state, he clearly does not know this constituency," she continued.
In a statement, Glynda Carr, president of Higher Heights, an organization that advocates for Black women's political empowerment, also expressed her frustration. 
"This decision is a clear setback to women's representation in the Senate and will leave a consequential void in the upper chamber without a much-needed voice who can uniquely speak to the needs and issues that are most important to Black women across this country," she said.