R&B Royalty Who Caught the Holy Spirit: 5 Soulful Singers Who Made a Heavenly Switch to Gospel!
Kandi Burruss, LaTocha Scott, Coko and more have flexed their vocals for a higher power.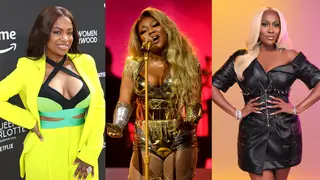 It's no secret that R&B has its roots in gospel. From Ray Charles to Aretha Franklin to Whitney Houston, soul singers have always brought church to their music. Those riffs and powerhouse notes we all know and love, came straight from the choir. Therefore, it's not a surprise that vocalists who got their big break in R&B felt it in their the spirit to go back to where it all began. Here are five R&B singers who tackled gospel.
David Hollister From Blackstreet

David Hollister had a huge career in R&B. He sang the hooks for big hits, including 2Pac's "Brenda's Got a Baby" and "Keep Ya Head Up" and was also a member of the R&B quartet Blackstreet. After four solo albums, Hollister released The Book of David: Vol.1 – The Transition in 2006, which charted at No. 1 on the Billboard album gospel chart. Hollister has continued to have a huge career in gospel, check out "Bless Me" from his 2008 album Witness Protection.

LaTocha Scott From X-Scape

After years of belting out notes in the girl group X-Scape, LaTocha Scott dropped her first gospel album earlier this year on Motown Gospel. The Invitation: A Conversation With God was released during the airing of the hugely popular SWV & XSCAPE: The Queens of R&B, which included many confrontations with her sister Tameka Scott.  It remains to be seen if the reality show will hurt or help her gospel project, but the single "Afraid" debuted at No. 24 on Billboard's Hot Gospel Songs chart. See the video above.

Coko From SWV

While Cheryl "Coko"Gamble  blew up in SWV, her soprano voice was developed in the church. Her mother, Lady Tibba Gamble, is a longtime gospel singer who inspired her daughter to sing. After three albums with SWV, Coko dropped her first gospel album Grateful in 2005. The album charted at  No. 5 on the Billboard gospel charts and earned a Grammy nomination for Best Contemporary R&B Gospel Album. In 2009, she released The Winner in Me, which peaked at No. 4 on the Billboard gospel charts. Listen to the title track above.

Kandi Burruss From X-Scape

Kandi Burruss has never released  a full gospel album, but in 2013 she dropped "Stay Prayed Up," a duet with Marvin Sapp, who received backlash for working with the R&B singer and entrepreneur. Some gospel fans thought Burruss' sex toy line and stint on reality television was incompatible with gospel. In response, Sapp wrote on Facebook, "Compromise was never done here nor do I condone her lifestyle or life choices and keeping 100 you don't know the off camera conversation we had." Kandi also responded, "I knew that some people would give me the side eye, but I didn't know that it would be to this extreme." Regardless of the backlash, "Stay Prayed Up" charted at No. 1 on the iTunes Gospel Chart.

Kelly Price

Kelly Price is an anointed singer-songwriter who got her start singing in local gospel groups in her hometown of New York City. While she received mainstream success due to three R&B albums and one Christmas album, she never forgot her gospel roots. In 2006, Price released her first full gospel album This Is Who I Am and dropped Sing Pray Love, Vol. 1: Sing in 2014. She is also one of the most beloved judges on BET's Sunday's Best. See her slaying "I'm Still Here" above.