Dave Chappelle To Host Saturday Night Live Nov. 12
With Black Star (Yasiin Bey and Talib Kweli) as the musical guest.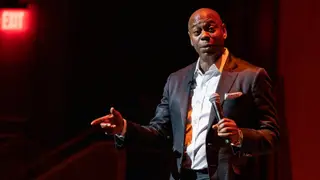 Dave Chappelle is returning as the host of Saturday Night Live on Saturday (Nov. 12).
The comedian, 49, will host four days following midterm elections. He previously hosted SNL in November 2016 and November 2020, also following elections. Chappelle received some backlash following his 2016 appearance, when he encouraged everyone to "give Trump a chance" during his monologue; he later said he regretted the statement.
According to Pitchfork, the night will also feature the reunited hip-hop duo Black Star (Yasiin Bey and Talib Kweli) as musical guests. A Tribe Called Quest were the musical guests for Chappelle's 2016 hosting stint; the Foo Fighters backed the comedian in 2020.
In July 2022, Chappelle released a comedy/speech short on Netflix titled Dave Chappelle: What's in a Name?  He held the performance at his alma mater Duke Ellington School of the Arts, where he reflected on his rise to fame and never conforming when it comes to art.
Beginning in December, Chappelle and Chris Rock are hitting the road for a seven-city tour.