Oprah Winfrey Shares Her Secret to Happiness
The billionaire mogul says, 'the Simplest Things Bring Me the Greatest Joy.'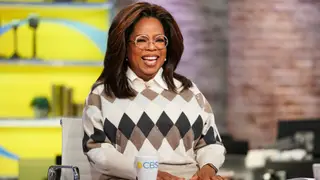 Media icon Oprah Winfrey is known for being one of the wealthiest Black women in the world. Yet, in a recent interview, she shared that while she has a "big life," the simplest things bring her pure joy.
Winfrey and Harvard professor Arthur C. Brooks are preparing to release a book together entitled Build the Life You Want: The Art and Science of Getting Happier, published on September 12, according to PEOPLE.
Winfrey says that she became familiar with Brooks during the early days of the coronavirus pandemic as she read his Atlantic Magazine column,  How to Build a Life. She said that his work reminded her of her days hosting her popular talk show, saying, "Arthur would be one of those people we'd be calling on as an expert for almost every subject, everybody's life dilemmas and challenges and obstacles, and how to move forward and be a better person."
The book also explores how to share happiness with others, which she said is something she loves to do.
"Gratitude has always been my core. To have that backed up and reinforced by Arthur and his scientific research was really, really meaningful to me," adding that she has been journaling since she was 15 and still has some of her old journals.
The book is also about sharing happiness with others, which she says she loves to do.
She says it all comes down to making others feel validated and seen.
"One of the threads for me for all those years of listening was that all humans are looking to be validated. No matter what the show was, whether it was Senator Obama, Beyoncé, or somebody who had overcome cancer. At the end of every one of those interviews, in one form or another, someone always said, "Was that okay? How was that? Was that good?"
She also told PEOPLE that, as a scientist, Brooks' work confirms what she already believes. "For me, personally, it was reaffirmation that how I was moving through my life with the basic pillars of family, friendship, work and faith. Having the scientist sign off on that it was just reassuring to me. Because I am one of the happiest people I know, but not in the same way that most people would expect. By that, I mean I live a big life, but it's the simplest things that bring me the greatest joy."