5 Unforgettable DMX Moments
The legendary emcee passed away two years ago, but his legacy lives forever.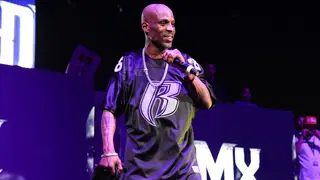 It's hard to wrap our heads around the fact that the larger-than-life personality that was DMX has left this world. The Yonkers-born rapper and actor who embodied everything hip-hop stood for - from his incredible artistry to his occasional wild antics - passed away two years ago on April 9. But even in death, his impact continues to reverberate across the music industry.
DMX's troubled past is well-documented, but today, we choose to focus on the happier moments that we had the privilege of witnessing. Despite the odds he faced, DMX was a beacon of hope for many, inspiring countless individuals to rise above their struggles and persevere. His unwavering spirit and infectious energy touched the lives of everyone he met, making him a beloved figure to fans around the world.
As we celebrate the life of this legendary emcee, let's take a moment to look back on some of the fondest memories we shared with DMX. From his iconic "Get At Me Dog" to his unforgettable performances, DMX brought a raw, unapologetic energy to his music that continues to inspire new generations of fans.
Although we mourn his loss, we can find comfort in knowing that DMX's legacy will continue to live on through his music and the impact he had on those who knew and loved him. So let's honor the legacy of this hip-hop icon and remember him for the joy, laughter, and inspiration he brought into our lives.
DMX raps, "Rudolph Red Nosed Reindeer

During a visit to Power 105.1 in late 2012, the "Party Up" emcee was in the holiday spirit and gave a unique yet unforgettable performance of "Rudolph The Red-Nosed Reindeer" that will forever live in the minds of his fans.

DMX and Orchids

In 2015, X appeared on ABC's popular series Fresh Off The Boat as himself for an episode titled "We Done Son."

While talking to the show's main character and part-time rapper Eddie Huang, portrayed by Hudson Yang, about love, the rapper compared his care for orchids to how people should treat each other.

DMX rides a slingshot with his daughter

A sweet father-daughter moment was shared with the world in 2014 when the emcee was captured riding the Magical Midway Slingshot ride in Orlando, Fl, with his children.

X could be heard screaming at the top of his lungs; however still able to comfort his baby girl, letting her know that "It's OK, mama. Daddy is here. Daddy is here! Daddy is right here. I got you."

Grammy Award-winning musician Kanye West later sampled the sound in his record "Life of the Party" featuring rapper André 3000.

1999 Woodstock Performance

In 1999, DMX's show proved that hip-hop's influence was astronomical as he performed a 45-minute set that included classic hits like "Slippin'" and "Ruff Ryder's Anthem" to a sea-filled audience. It's truly a sight to see.

Singing along to Taylor Swift with goddaughter Paige Hurd

DMX had a few heartwarming moments, contrary to the hardcore persona he was often associated with, including a sweet sing-along he shared with goddaughter and actress Paige Hurd.

In a clip that resurfaced some time again, the two could be seen in the car driving, Hurd singing Taylor Swift's "Shake It Off" while X added his signature ad-libs.