#TBT: Remembering DMX's Top 5 Moments In Hip Hop
DMX singing 'Rudolph The Red Nose Reindeer' was special.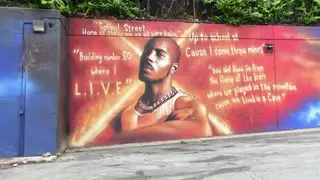 DMX's passing on April 9th was a gut punch to hip hop. The growl and bark; his stage presence; his prayers — it was all hip hop to the bone. 
Born Earl Simmons, the Yonkers, New York product went from surviving immense tragedy as a youth to eventually working with some of New York's finest: Jay-Z, Lil' Kim, Mase and LL Cool J are just a few. 
X's impact on hip hop was immense. For context, his albums Dark and Hell Is Hot and Flesh of My Flesh, Blood of My Blood — both released in 1998 — combined to sell 10 million copies. 
With the BET Hip Hop Awards 2021 around the corner, it's only fitting to look at some of his most defining moments. And make sure you check out X's tribute at the BET Awards 2021 if you haven't already.  
His 'Fresh Off The Boat' Cameo

DMX was one of the most intense rappers in hip-hop history. He brought energy, aggression and passion to his music and performances and was as old as old-school hip hop gets. 

Which is why DMX's cameo on a 2015 episode of the ABC sitcom Fresh Off the Boat was so refreshing to behold.  

In the episode, titled "We Done Son," DMX plays himself — a retired rapper — mentoring his neighbor who is looking for a job. 

Over the course of the episode, it shows a softer, kinder DMX in a way unlike he was over his career.

Backstage Freestyle With Jay Z

It doesn't get more hip hop than the footage of DMX and Jay-Z freestyling backstage. 

The footage came from the Hip Hop documentary, Backstage, which gave a behind-the-scenes look at the 1999 Hard Knock Life Tour. 

In addition to  showing the backstage life from several members of Def Jam's roster, it gave us this gem between DMX and Jay-Z. 

DMX Woodstock 99

Even though it goes viral on Twitter every year, DMX's performance at Woodstock in 1999 will forever be one of the most mesmerizing events to witness. 

Dripping with sweat in front of aa crowd of 200,000 in a pair of beaten-up Timberland boots screaming "Get at Me Dog'' and "Damien" is what hip hop is all about. 

It's a performance that will go down in hip hop history. 

Anytime he Prayed

All of DMX's prayers were a powerful hip hop moment.

Hip-hop and gospel are tied together more than people realize, and the fact that he's the artist — before the likes of Kanye or Chance, The Rapper — to bring such elements into the genre spoke just how ahead of his time X was. 

The prayer he gave at the end of his interview with Power 105.1's The Breakfast Club in 2016 is a perfect example of how he was also ready and willing to act on his faith. It also shows how genuine and authentic he was about it too. 

His Feature of The LOX's "Money, Power & Respect"

DMX's contributions alongside Fellow Yonkers, N.Y. natives The LOX on their 1998 classic track "Money, Power & Respect" will forever go down in hip hop history. 

I mean, it's one of the best features of all time from Earl Simmons. 

"This ain't no fuckin' game, what, you think I'm playin'?/'Til you layin' somewhere in the junkyard decayin'/Moms at home prayin' that you comin' home, but you not/'Cause you sittin' up in the trunk, startin' to rot/And hell is hot, I know because I'm here now, baby," X raps.