Fenty Beauty Is Winning Because Rihanna Delivered What Black Women Have Been Asking For
It turns out being inclusive is pretty profitable. Surprise, surprise...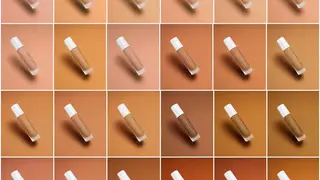 It's obvious our girl Rihanna has been unapologetically Black for a while now.
Her latest venture only serves to further prove this point. She put her Midas touch on the beauty industry and Fenty Beauty was truly a gift from the heart to brown girls all over the world. On Friday, September 8, after a two-year wait, she launched Fenty Beauty in partnership with Kendo Cosmetics. For brown women it almost felt like Christmas, the 91-piece product line offers a full range of 40 shades of foundation, suddenly providing women of color permission to be something other than a soft beige — and still be catered to.
No surprise here, but Fenty Beauty has every major player in the beauty industry shook. Previously, I could only count on mega brands like Bobbi Brown or MAC Cosmetics to offer a foundation that was even relatively close to my skin color. However, I had to spend years of expensive trial-and-error experiments to finally find anything that worked for me. According to Poshly Insights, "Shade matching has historically been a major concern among consumers, with 60 percent reporting at least some difficulty finding a foundation that matches their skin."
Like Fenty Beauty, neither one of these brands are in the realm of an "average" price point. After all, not everyone has the privilege to venture outside of the option of drugstore brands, and the pricier the product, the fewer color options. 
In August, YSL launched a campaign via their Instagram page that immediately had Black Twitter up in arms. The image prominently displayed exactly what has been the key struggle for so many dark-skinned women looking for cosmetics that they can use. There were 22 shades showcased, from pale beige to dark tan. The twist? There was only one solitary dark shade prominently displayed in the middle of the photo.
Sadly, this is common practice when it comes to shade-matching foundations for darker skin tones. Not only do companies leave money on the table by neglecting Black women, but this reinforces the idea of erasure for Black women as luxury consumers. It's arguable that the reason for this is rooted in Eurocentric ideas about beauty; European features have historically been valued over Black beauty in the West, so it makes sense that companies reflect that in their products, ad campaigns, etc.
The hope is that Rihanna's debut cosmetics launch will inspire other luxury beauty brands to reconsider the lack of options for dark-skinned girls like me — and for mainstream brands that make affordable options to expand as well. 
The craziest thing about all of this is the beauty blogger industry has thousands of talented people of color, who are ready to test products and make these corporations lots of money. If the bottom line is profits, then Rihanna proved this strategy works by the success of sales alone. Unfortunately, it's easy to sell Rihanna but not so much for the other talent that seems to go unnoticed when it comes to major endorsements and contracts, apart from Maybelline's recent collaboration with Makeup Shayla.
It's hard not to feel that perhaps there is an effort being made to uphold white supremacy by ensuring that our beauty remains an afterthought. Mediocre white artists with reputations for making racist comments, like James Charles and Jeffree Starr, are household names garnering big-brand deals with the likes of Benefits Cosmetics and CoverGirl, yet iconic revolutionaries like Jackie Aina and Alissa Ashley haven't been signed to any big cosmetic brand campaigns. (Although in Aina's recent video attending the Fenty Launch Party, she had lunch with Lancôme hosted by Lupita Nyongo at New York Fashion Week.)
Even when companies do attempt to show an interest in diversity, it often appears half-hearted, and can be easily interpreted as tokenism and exploitation in the name of capitalistic gain, not true inclusiveness. And that's where Fenty Beauty differentiates itself.
Just last month, L'Oréal hired their first Black transgender campaign model, the U.K. DJ and activist Munroe Bergdorf. But the partnership was short-lived; Bergdorf spoke out against the Nazi activity in Charlottesville, Virginia, and white supremacy. L'Oréal swiftly fired the model and deemed her comments as "at odds with their values," despite the fact that they had hired her for campaign about diversity.
And yet, with Fenty Beauty, it has been proven that being inclusive is both lucrative and beneficial. The launch of Rihanna's products set the internet on fire, and most importantly, all of her darker foundations have been consistently selling out since their release. It wasn't just that Fenty Beauty solved an issue plaguing Black makeup enthusiasts, it was the sincerity with which it was presented. 
At her launch, Rihanna discussed the inspiration behind creating this line. "It was really hard to make a product like that which actually matches all skin tones, but is still invisible, for real," she said. "I just wanted things that I love. And I also wanted things that girls could fall in love with, of all skin tones. And I keep saying that because it was really important to me. In every product, it was like, 'There needs to be something for a really dark skin girl, there needs to be something for a really pale girl, and there needs to be something for someone in between.' There's so many different shades of red undertones, there's green undertones, there's blue undertones, there's yellow… so you want people to appreciate the product."
Professional makeup artist Zeba Master has worked with clients of all skin colors. However, one look at her Instagram page makes it is clear that she has a talent for perfecting aesthetics for darker complexions. Specifying that she is a #260 in Fenty Beauty, she was elated on behalf of her future clientele who have been blessed with more melanin.
"I am so glad someone came out with a foundation literally for every skin tone. And this just goes to show other brands that darker skin tone foundation does actually sell," she shared.
Zeba Master isn't the only makeup enthusiast who is singing the praises of inclusion after being unable to find darker foundation shades. Nyma Tang created an entire YouTube channel revolving around this exact dilemma. Her channel, The Darkest Shade, helps women with darker skin determine what brands would work best on their skin color. She has struggled because of the lack of her shade representation within the market.
"It's a bit too soon to tell if Rihanna has revolutionized how the makeup industry caters to women with darker skin tones, but she has definitely shown them how to properly launch a line," explains Tang.
"I think we will know once these other companies start trying to expand their shades or creating more products for darker skin tones because of what Rihanna has done. I definitely think that she has shaken things up, and have heard that the darker foundations FLEW off the shelves when Fenty Beauty dropped. I really do hope that Fenty Beauty is/becomes the wakeup call that these other brands needed!"
Tang does give kudos to brands that came before who were making an effort for makeup inclusion.
"Brands like MAC Cosmetics and Lancôme have been trying to be inclusive, even before Fenty launched. But there is still a lot of work that needs to be done. Everyone needs variety. Some formulas just don't gel with certain skin types and tones, and not every dark skin tone has an undertone of red; some are more neutral, olive or yellow. Why must darker skin tones have to choose from a few companies/products when others seem to have an unlimited supply? The same is true for the paler side of the spectrum as well. And I love that Rihanna attempted to cater to both sides of the spectrum."
In the end, Fenty Beauty has already proved to be iconic, and this is only the launch. There is hopefully much more in store for the future of this brand, and seeing Black and brown people light up at the fact that they're included in the mainstream beauty conversation is nothing short of #BlackGirlMagic.