Call Her Latashá: Meet Your Guide to Creative Liberation Through NFTs
The multifaceted artist shares her cryptocurrency story for other BIPOC creators to follow.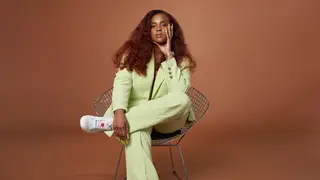 Before Feb. 17, 2021, Latashá was trying to turn a passion into a living. The multifaceted artist was roughly six years removed from a stranger, being so moved by her song "Bee.Em [Black Magic]" that they gave Latasha $10,000 on the condition the artist pursues music full-time.
Over the next six years, Latashá made it work by ingratiating herself in creative communities in New York (Brooklyn, to be exact), opening up shows for ​​the likes of Kanye West and Q-Tip, and getting tens of thousands of dollars by having her songs featured in shows like Netflix's Self Made: Inspired by the Life of Madam C.J. Walker. Latashá was independent, but she wasn't free; she was still feeling rushed to create based on "the music industry formula" instead of being herself.
Coming back to Feb. 17, 2021, she got her first taste of true creative liberation when she minted her first NFT, a music video for her song "ilikedat," on the NFT marketplace Zora. In 3 ½ hours, Zora's co-founder Jacob Horne purchased it for $1,000 using cryptocurrency DAI. And she never looked back. NFTs, also known as non-fungible tokens, are one-of-a-kind digital renderings of almost anything, created and tracked on digital ledgers known as blockchains where cryptocurrencies like Bitcoin and Ethereum are created. NFTs being created and traded on transparent ledgers allow Black creators to profit off unprecedented access to spaces typically controlled by institutional gatekeepers.
Since Latashá sold her first NFT, she estimates she's sold upwards of $200,000 worth of NFTs on Zora, helped the company educate people about NFTs and cryptocurrency at events like SXSW and Art Basel as its head of community programming, and watched as NFTs changed people's lives.
"I've had calls with BIPOC women artists who are like, 'Latasha, before I got into the space, I didn't know how I was paying my rent. I didn't know how I was going to get groceries.' The space is really changing people's lives," Latashá told BET.
The same 32-year-old woman who barely knew anything about NFTs before entering the space is now sharing her story to show other BIPOC creators how you can take control of your life, one NFT mint at a time.
---
BET.com: What were you doing to make money in the weeks before you sold your first ever NFT?
Latashá: I was on unemployment from the pandemic (laughs). I was still getting licensing, so that was paying some of my bills. That year, I think I made like $20,000 or $30,000 off of licensing, and then unemployment gave me $400 a week. I was ranging between $40,000 and $60,000 in 2020.
BET.com: Three months after you sold your first NFT for $1000 in 3 ½ hours, you sold an NFT of your verse from Witch Prophet's "Makda Remix" for $11,000 in 5 ½ hours. What did you learn in those three months that helped you do that?
Latashá: I learned that you need an audience. You need some community. You need to be offering different kinds of art, not just one type of boring art. You want to offer diversity. Also, you want to be yourself and tell your story because the NFT space is highly dedicated to your story. The collectors want to know who you are, what you're about, and how you move in the world. So, a lot of my Twitter was about my story. A lot of the NFTs I was releasing were about my story. So, I really focused on that heavily.
BET.com: Some people may see your success and think they just need to put up a few pics as NFTs and watch the money roll. So, how So how does one build the community necessary to add value to their NFTs?
Latashá: It starts with a mindset.  I had a real deep mindset change, especially during the pandemic. In my career, I've always thought of abundance. That is my word, and I live off that word heavily. Then, I always think about economic karma. That means if I am not giving to people who have given to me—paying people, bartering, or offering—that kind of exchange will come back to me. So, I have to give to receive. So, you should want to know the other artists who are in the space, retweet what they got going on, show up for other people, et cetera.
BET.com: How have you seen NFTs change the everyday lives of Black people?
Latashá: In the music industry, they say you can't be a parent. You could be all those things in this space and still find income. I have this homie named Lafayette Stokley and this other homie Namaste Jones who are both parents in the NFT space, making income out of it and paying for their kid's stuff and taking care of their families through this thing.
I also built Zoratopia, an educational platform that I do every other Wednesday, where I teach people about web3 through that. We also have IRL events. So I've been throwing events at SXSW, and Art Basel and doing one in New York soon. I put these artists on stage, and now they have a place to perform and showcase the art they've been putting into NFTs. It's really beautiful to witness all of this happening.
BET.com: If other BIPOC individuals wanted to get into NFTs, what are some communities you'd recommend?
Latashá: There's Black NFT Art, which is a dope community. There's called xx1off. There is a whole bunch of pockets of communities like Black NFT LA. RefractionDAO is another one. HerstoryDAO is another one. There are a lot of them out there. You have to do the work. Mint Fund is a dope community, too, because, with Mint Fund, they help pay your gas fees, which is the price it costs to mint an NFT. So, they will help BIPOC artists by paying for their gas fees. There are a lot of us. You just have to do some digging. I tell people to check hashtags. There's also African NFT Community. That's another dope community that's really focused on artists from Africa and the diasporas.
BET.com: What do you see in the future for black in this space? What are some trends you're seeing now that can help and aid black creators?
Latashá: Black creators are starting to get developers to build their own platforms, and I'm really excited about that. I think we need our own platforms as always. BET is a perfect example of a Black platform that we needed. So, we continue to push that precedent in the NFT space where artists will build something that speaks for them and speaks what they believe in and what they want to show, and what they believe is art.
When we first started in this space, Black art wasn't always seen as high valued art. Even now, we're witnessing some Black art not being received as high valued art like other kinds of art in the space. So, we have to build our own spaces so that they can respect us and see our art as highly valued and blue-chip as any other form of art.
---
Keith Nelson is a writer by fate and journalist by passion, who has connected dots to form the bigger picture for Men's Health, Vibe Magazine, LEVEL MAG, REVOLT TV, Complex, Grammys.com, Red Bull, Okayplayer, and Mic, to name a few. He can be contacted at nelsonjr.keith@gmail.com