Cuba Gooding Jr. Responds to Wife's Separation Request in the Most Petty Way Ever
Their marriage of 20-plus years is clearly over.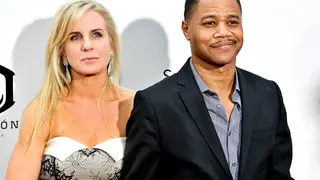 Cuba Gooding Jr.'s marriage of 23 years is over, and it looks like it's not going down with somebody lobbing a petty bomb.
According to TMZ, the actor's wife, Sarah Gooding, filed documents seeking a legal separation from her husband of two decades, and the People vs. O.J. Simpson star's response was anything but gracious and amicable.
Apparently, Cuba responded to his wife's request for legal separation by one-upping her by filing for divorce. Ouch! Guess these two aren't gonna take some time apart to work it out, after all.
The couple has been separated since 2014, so the divorce itself isn't a total shock. And, for now, it seems pretty standard: he's asking for joint custody of their 10-year-old daughter, and is willing to pay spousal support. But — here's the rub — he wants all his post-separation earnings to stay with him, and that includes all that O.J. money.
Watch Cuba talk about how playing the alleged killer messed with his head — and, apparently, his marriage, with BET Breaks, above.