Tory Lanez Shares First Message From Prison
The Toronto rapper says he's "in great spirits."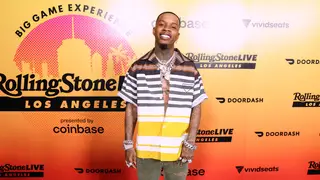 Tory Lanez is providing an update for his fans in his first message from behind bars.
On Monday (September 25), the Toronto rapper relayed a voice memo from his Instagram and seemed positive about his situation.
"Ay Umbrellas, man. What's good? I'm talking to you live from prison right now. Man, I'm just happy to get out from that b******t county jail. They was hating on a young fly n***a, ya heard?" he began the message. "Had me on 24-hour lockdown. Half-sized cell by myself. No windows, no mirrors. Ain't even see himself in a whole year yo."
Lanez, who was sentenced to a decade in prison last month after shooting Megan Thee Stallion in the foot in 2020, was reported by Page Six to be "scared for his life and safety in prison."
"He feels like he is an instant and direct target because of his celebrity status," a source told the outlet.
Lanez is imprisoned at the North Kern State Prison in Delano, California.