'Zatima' Stars Devale Ellis and Crystal Renee Hayslett Share The Best Piece Of Advice Tyler Perry Gave
You can watch their new series 'Zatima' on BET+ now.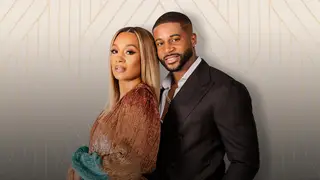 Zatima has become Black Twitter's favorite television couple and due to becoming fan favorites, Tyler Perry decided to give the characters their own spinoff.
In the Sistas series, Fatima Wilson (Crystal Renee Hayslett) serves as an assistant at a law company, while Zac Taylor (Devale Ellis) is an ex-convict trying to rebuild his life. Once these two meet, they began to hit things off, and sparks started to fly which culminated in a relationship. In the new series, the couple takes it to the next level with audiences seeing how their relationship will unfold once they move in together. While the characters are branching off on their own, doesn't mean the hijinks will cease. With new characters added into the mix, the series will have you in for a wild ride.
In a fun conversation with BET.com, Hayslett, and Ellis talk about the growth of the series, with Ellis sharing how Tyler Perry didn't want to make the series a "glorified fairy tale" of what a relationship looks like for the new series.
"It's a comedy, but more of a dramedy. Tyler [Perry] wanted people to heal from watching the series," said Ellis.
"[Tyler] wanted people to see what a relationship looks like in the very beginning. I just want them to grow and see empathy between two people trying to love each other the right way."
Hayslett chimed in, sharing that she and Ellis "take a lot of time" to develop their characters and they want the audience to see themselves in Zac and Fatima.
"We take a lot of time to craft our characters and make sure that people see us as human beings and see themselves in us. We don't want to have a glorified, perfect relationship that isn't attainable. As a woman, I've watched television and the different types of love onscreen — that's not reality. We're giving people reality — if you love someone and you stick with them, things can be beautiful and it can be your own fairytale."
She continues, letting BET.com know she feels social media has ruined relationships and it doesn't give couples the opportunity to "thrive."
"I feel our show is going against what you see on social media because it only shows the highlight reel of people's lives," she expressed.
"I think [Zatima] is bringing back some of that reality into the viewers' homes so you can see this is what people deal with or if Zatima can make it, we can make it, too."
Devale and Crystal have a fantastic friendship offscreen, with the latter becoming the godmother to Ellis's youngest son.
When asked about their relationship dynamic, Ellis praises both Hayslett and his wife Khadeen Ellis for building a bond and understanding that his relationship with his co-star is just work.
"Shout out to these two beautiful, strong women, especially my wife [Khadeen] who understands this is work," he shared.
"She allows me and [Crystal] to express ourselves artistically onscreen without throwing wrenches or making it about her. I want to also shout out [Crystal] for being the most respectful co-star who always ensured my wife was comfortable. She also ensured I was comfortable as we embarked on this journey together from season two of [Sistas]. We're able to compartmentalize the moment we're onset — she goes from being my baby and my everything back to my best friend when the cameras are off."
Both actors are continuously sharpening up their acting capabilities, with Hayslett sharing a piece of advice she received from The Game's Pooch Hall during her beginnings as an actress.
"I was taking a lot of life lessons from [Pooch Hall] and shared the acting school route people take is bulls*it," she expressed.
"He told me to take everything I learned in life and apply it to every scene. If you live long enough, you'll be able to relate to the scene you're in and resonate — you'll be able to make it the truth. When it came to season two, and I was in the hot seat, I realized I needed a little bit more than my life lessons to help me. I took it upon myself to study and learn the craft and now I see a difference from my first season to now. The longer you settle into the character, it becomes second nature, and we both are dedicated to coming with something different each season — we don't get complacent."
Ellis added, sharing he had been trained before fans discovered him on YouTube, studying at Hofstra University's communications department and enrolling in a two-year conservatory at Espera Studios. He continues to comment on Tyler Perry Studios, letting BET.com know the studio shoots their shows theater-style, which has helped him become a better actor outside of Zatima and Sistas.
"Working at [Tyler Perry Studios] is different than any other place," he expressed.
"We film extremely fast, and the reason for that is the model they use. It reminds me of a play. Most good actors want to become great, so they go to the theatre. With theatre, you only get one take — you need to improvise and know your cues and spots. When you work at TPS, it's like a soap opera — doing a play consistently for two weeks. When you enter another project where you only shoot two pages a day with multiple takes, all the work at TPS is like a paid boot camp, and it teaches you how to be great at your craft if you do the work. I guarantee if you want to be an actor in this industry and learn what it takes, go to TPS and watch — you'll understand it takes a lot to be able to be an actor."
The Zatima stars are in a great position to work with Tyler Perry, who currently is a billionaire in his own right as he built his empire from the ground up.
The stars shared the best advice Perry gave them.
"When he finally found out I wanted to act, it was season three of Sistas and he knew this was my moment," she revealed.
"He said 'you need to take this seriously and do your thing with it and to always remember where you came from and always be kind to people. I will never forget that."
As for Ellis, he shares that Perry told him to "own your sh*t" because he has more to offer Hollywood than just acting.
"He watched me develop my podcast and my content. He said no matter what, under no circumstance, will you sign over your likeness to anyone. That's how you become wealthy," Ellis told BET.com.
"That's how you create generational wealth and leave something for your children by owning your stuff. He told me this in 2019 and since then, my businesses have been booming. Outside of acting, he's one of the greatest businessmen to walk on this earth. He talks to me and Crystal more about business than acting. He'll see me purchase something on a post and ask me if that purchase made sense. For a billionaire to call you and ask that, he cares. It will make you think."
As we wrapped our conversation, Ellis shared that some characters from Zatima will appear on Sistas and a few characters from the TPS universe will appear on Zatima.
You can stream Zatima now on BET+.
—--------------------------------------------------------------------------------------------
*This interview has been edited for length and clarity
Ty Cole is a New York-based entertainment reporter and writer for BET.com who covers pop culture, music, and lifestyle. Follow his latest musings on Twitter @IamTyCole.