Styles P Has An Unreleased Collab With Mac Miller
From Miller's 'Pink Slime' recording sessions.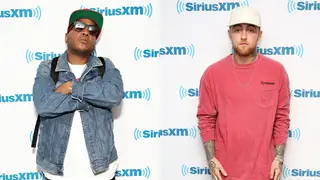 Styles P has, more or less, confirmed that there is, in fact, a Mac Miller collaborative project with Pharrell Williams in existence. 
Styles P hopped on Twitter on his 46th birthday and reflected on his career. During his walk down memory lane, the rapper talked about the fact that he has an unreleased collaboration with Miller from years ago. 
"I have a song with Mac Miller I never heard "I believed Neptune's produced it ..I don't know if it came out and I missed it or they never released it. Would love to hear it," he wrote.
A fan then put a snippet from a conversation that Miller had on the A Waste of Time podcast where the latter explained that he worked with Pharrell, Curren$y, and Styles P. Styles P then responded with a tweet about how good the song was. 
"I knew I wasn't crazy I started thinking I was bugging !!! That shit was tough though !!!" he wrote. 
Miller announced in 2015 that he worked with Pharrell on a collaborative mixtape called Pink Slime. Since it never came out, it became something of a legendary body of work in hip-hop, but, with Styles P's reveal, it seems that it exists in some facet.
In another of Styles P's tweets about his career, the rapper mentioned hanging out with Curren$y and Miller and smoking weed together.
Check out Styles P's tweets up above.