Oprah Winfrey Throws Political Weight Behind Stanford Grad
Stockton City Council candidate Michael Tubbs only third politician to get media maven's nod.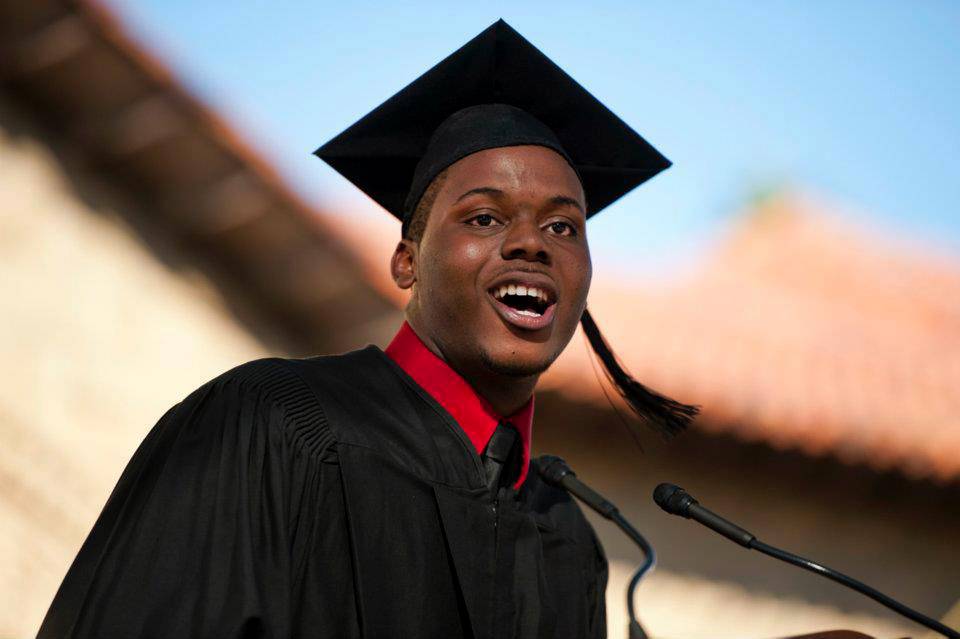 Long wary of potentially offending those who watch her television network, purchase her magazine or sign up for her book club, media maven Oprah Winfrey has been selective in throwing her muscle behind political candidates. To date she's donated to only three political campaigns. Hig- profile nominees Barack Obama and Newark's Cory Booker received Winfrey's financial support and blessings. The third is the campaign of a much lesser known 21-year-old. Michael Tubbs, a recent Stanford University graduate, is campaigning for a seat on the City Council of what was once the most miserable city in America, according to Forbes.
Tubbs spent the year leading up to his graduation shuttling between two cities. Monday through Wednesday he walked the Stanford campus. Thursday through Sunday he drove 83 miles to his hometown of Stockton, California, where Blacks make up 12 percent of the population and the unemployment rate is 18.1 percent.
But that hasn't deterred Tubbs. If anything, the challenges the city faces have embolden him. On weekends, he knocks on doors, speaks at graduations, reads to students and hosts fundraisers. The $10,000 donation from Winfrey vaulted him toward his fundraising goal of $30,000 as he went up against 52-year-old Republican incumbent Dale Fritchen. In what could be a hint of what's to come in November, Tubbs beat Fritchen by a vote of 55 percent to 45 percent in the June 5 primary. They were the only two names on the ballot.

"I am blessed," said Tubbs, who met Winfrey in April when she toured Stanford. One of the university deans was asked to bring two students to a luncheon with Winfrey. One of the students was Tubbs.
The conversation turned to politics and Tubbs described his vision for reinventing his hometown. Winfrey was impressed. " 'You know I helped Cory and Barack with their campaigns,' " Tubbs recalls Winfrey saying.
He says Winfrey then asked how she could donate to his campaign. Days later, she sent a check to his home.
Tubbs, who graduated with honors from Stanford in June with a bachelor's degree in Comparative Studies in Race and Ethnicity and a master's degree in Policy, Organization and Leadership Studies, was president of the Stanford NAACP Chapter, an intern at Google and chair of the Stanford Black Male Initiative Conference.
It's quite the accomplishment for a man born to a 16-year-old and a father who has been incarcerated most of his life.
"Poverty is not an abstract concept. I grew up in it. My own cousin was murdered last year," he said.
In 2011, Tubbs served as a White House intern in the Office of Intergovernmental Affairs. In that role, he researched the best governmental practices in cities across the nation and met with mayors and city councilmen on a regular basis. He remembers being particularly inspired by Raúl González Salinas, the mayor of Loredo, Texas, who shared with White House officials effective ways to work with the police department and fight drug cartels by maximizing community resources.
"I was seeing the changes I wanted to see in poverty, violence, education, and it was being done in the local level. It may not be the most glamorous job, but if you want to see change done quickly, you have to focus on the local level," said Tubbs.
During his sophomore year at Stanford, Tubbs founded the Phoenix Scholars, a mentoring program for high school students in California that prepares them for college acceptance. With the help of 45 friends at Stanford who served as mentors, he started the program with 95 students, and all of them were accepted to college. This year the program has expanded to 110 Stanford mentors and 220 mentees, all of whom were accepted to prestigious colleges, including MIT, UC Berkeley and UCLA.
If elected, Tubbs plans to implement communal approaches to fight crime, ensuring that young people have the resources to take advantage of the same opportunities he did growing up.
If Tubbs doesn't win the seat for city council in November, he will continue working at nearby college University of the Pacific, where he started this month.

"We have a great opportunity now with the foreclosure crisis, crime, poverty and financial situation that the city is in to reinvent the city," said Tubbs. "And I can't sit on the sidelines."
BET Politics - Your source for the latest news, photos and videos illuminating key issues and personalities in African-American political life, plus commentary from some of our liveliest voices. Click here to subscribe to our newsletter. 
(Photo: Courtesy Tubbs for Stockton City Council)