Soul Train Awards 2022: Learn Why CeCe Winans Is A Trailblazing Gospel Star
The singer-songwriter comes from Detroit music royalty.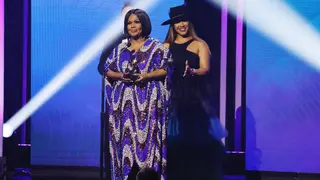 It won't be long before soul and r&b music take center stage at the Soul Train Awards 2022 hosted by Deon Cole. Ahead of this year's ceremony, set to be filled with surprise guests, show-stopping performances, and must-see speech acceptance moments, we're getting familiar with nominees, including legendary contemporary gospel singer and songwriter Cece Winans.
With 15 Grammy Award wins, 28 Dove Awards, and over a dozen more Stellar Awards, her accolades only tell the tip of her story. 
She has her own recording label

In 1999, the Gospel songbird launched her own recording company, PureSprings Gospel.  She released her fourth studio album  Alabaster Box and her first under the new imprint that same year.  PureSprings Gospel is located in Brentwood, TN. Artists on the label include Cece, Vicki Yohe, Marcus Cole, Marvin Winans, Delrories "Mom" Winans, and more.

She and Whitney Houston shared a tight bond

CeCe and the equally talented late singer-songwriter Whitney Houston. The pair collaborated on "Count On Me" from the Waiting to Exhale soundtrack. The single was certified Gold in the US and reached No. 8 on the Billboard Hot 100. Not only were they musical buddies, but she was also a godmother to her daughter, Bobbi Kristina Brown, who passed away on July  26, 2015.

She's made half a dozen television cameos on popular sitcoms

While climbing her way to the Gospel chart, Cece has made several cameos on popular sitcoms since the early 1990s. In 1994 she appeared on an episode of Martin titled "Go Tell It on the Martin." Three years later, she appeared on one of Living Single's most notable episodes, "Oh, Solo Mio," where she showed off some of her singing capabilities.

The Soul Train Awards 2022 premieres Saturday, November 26 at 8 pm ET/PT on BET and BET Her.