50 Cent And Funk Flex Have A Few Choice Words About Nick Cannon's Dame Dash Interview
The "Wild 'N Out" mogul also issued an apology to the "Queens."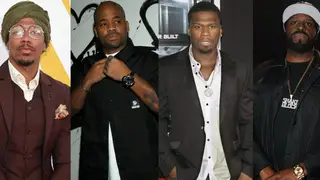 Nick Cannon knows pretty much anyone who's anyone in Hollywood. The Ncredible mogul sat with the one person many love to hate, the co-founder of Roc-A-Fella Records Dame Dash, for a session of "Cannon's Class." The two friends chopped it up for over an hour about Funk Flex, Aaliyah, Harvey Weinstein (around the 53-minute mark), his former business partner Jay-Z (around the 43-minute mark) and, of course, R. Kelly.
Early in the interview, famed Hot 97 DJ, Funk Flex was pulled into the conversation, a known rival of Dame's over his relationship with Lyor Cohen. Back in the day, Dame went to war with Def Jam and Lyor for "rescuing Jay-Z," yet another example of their highly publicized fallout. Funk stated that Dame's beef with the music exec is because he feels Lyor is, simply, a culture vulture. Towards the end of the interview, Foxy Brown, a 2004 Roc-A-Fella signee, was mentioned and the Drumline actor threw some shade, alluding that she was underage while having an intimate relationship with one of the label executives.
However, Dame evaded answering questions pertaining to that era.
50 Cent and Funk Flex, though, blasted him over his coy responses and called him a "sucker."

Both men took it even further and labeled their conversation as "two grown men giggling like b*tches." Nick fired back, saying, "solid recognize solid and suckas recognize suckas."

Flex and Nick were far from finished with their heated interaction.

The Hot 97 legend dragged Aaliyah into the conversation, along with some shocking accusations, blistering words and a threat or two.

As far as R. Kelly is concerned...

Dame said, "I never fucked with dude and because my girl [Aaliyah] said leave it alone, I left it alone." He even accused Robert of rape because of their former "relationship." Dame vehemently slammed all claims that he worked and "broke bread" with the disgraced Chicago singer-songwriter. Prior to her death, Dame respected the R&B princess' decision to not speak on Robert. He opted for a "silent protest."

Nick Cannon discussed why he chose to work with the Pied Piper in the early 2000s and even recalled him being arrested in Miami at the "Ignition" video shoot. He's since apologized and admitted to blatantly disregarding Robert's accusations, in the past.

"This entire industry was established and built by evil and predatorily spirits and male chauvinistic behavior."

"I have realized the real issue is the lack of care and respect for our QUEENS [...] I have personally witnessed it. It's not about dry snitching. It's a paradigm shift," Nick continued.

Check out the full, riveting conversation between Nick and Dame unfold