Oprah Winfrey On The Importance of Diverse Books And 'The Color Purple's Lasting Impact
"That is the power of a story well told. Thank you Alice Walker," said the media mogul.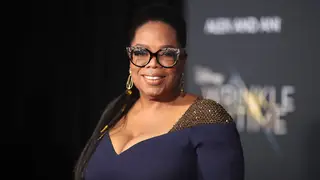 Oprah Winfrey is giving "The Color Purple" the flowers it deserves.
She spoke at the 74th National Book Awards Ceremony & Benefit Dinner in New York City on Wednesday (Nov. 15), discussing the importance of diverse books and "all those young people out there who found their voices in books written for them or by them," per People.
"I'm talking about the readers who picked up The Color Purple 40 years ago and found the kind of truth that I found in those pages," Winfrey said.
Winfrey is producing the upcoming movie musical based on Alice Walker's 1982 novel. The film, starring Fantasia Barrino, Halle Bailey, Taraji P. Henson, and Jon Batiste, is set to release in theaters on Dec. 25. This adaptation of the stage musical is a significant project for Winfrey, who previously portrayed the character Sofia in the original 1985 film. Her performance in the film earned her an Academy Award nomination for Best Supporting Actress.
"That is the power of a story well told. Thank you, Alice Walker."
Walker made history when she became the first Black woman to win the Pulitzer Prize for Fiction for her novel "The Color Purple" in 1983. The novel has been adapted into a film, a musical, and a television miniseries. Soon, the movie version of the musical is opening in theaters this Christmas.
The National Book Awards honored Winfrey as a special guest, and former "Reading Rainbow" host LeVar Burton hosted the ceremony. Winfrey also spoke of the origins of Oprah's Book Club and how it has impacted her.
During her speech, Winfrey reflected on the 27th anniversary of her book club, sharing how she initially hesitated to start the show because she didn't think the audience would be interested in reading fiction. However, she was persuaded by her daytime talk show's producer, Alice McGhee, who said people would read if given the time. 
The powerhouse concluded her speech by saying, "Let us vow to keep our books right where they belong, in reach of everyone to choose for themselves what to read because that, dear friends, is called freedom."