Run The Jewels' 10th Anniversary Tour: 10 Tracks to Add to Your Playlist
Killer Mike and El-P are slated to hit Los Angeles, New York, Atlanta and more during their tour.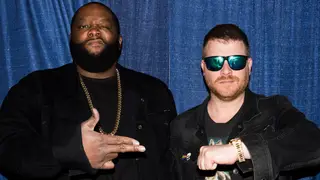 Back in June 2013, Killer Mike and El-P released a joint album under the moniker Run the Jewels. That effort, in addition to two more group-titled LPs helped spawn them as one of the most popular hip-hop duos of the mid-2010s.
Now the producer-rapper combo is once again hitting the road in honor of their initial union, celebrating their 10th anniversary with concerts in Los Angeles, New York, Atlanta and Chicago.
A press release reveals the pair will be "performing a different set each night spanning the band's full discography, bolstered by a plethora of special guests and surprises along the way."
"It's mind blowing to us that it's been 10 years since we joined forces as RTJ," Killer Mike and El-P add in the statement. "The best way we can think to celebrate is to get the whole family together and do what we love for the people who love us back. It's going to be amazing, just like this entire ride has been, and we are grateful to get a chance to celebrate with our Jewel Runners this year and finally get back into clubs to destroy some stages for you. We're doing four cities, four nights each, and four full albums worth of jams, many we have only performed a small handful of times during our whole existence. So on night one it's RTJ1 in full, plus many more songs from the other records; night two it's RTJ2… etc. etc. We can't wait to get out there and see you."
The last time Run The Jewels released an album was RTJ4, which was released in June 2020.
In honor of the new tour announcement, BET has compiled 10 essential songs to add to your playlist to get you ready for this new run. See them below under the schedule.
"Run The Jewels" (2013)

This is the one that started it all. Literally. The opener for Killer Mike and El-P's debut duo album gets things going quickly… And really, it never slowed down or stopped.

"Legend Has It" (2016)

Featured in the trailer for Marvel's Black Panther, "Legend Has It" is the third single from RTJ3 and presents Mike and El's trademark transient, robotic and booming style fans have become used to by their third joint album.

"Blockbuster Night Part 1" (2014)

No list is complete without this one. The beat is booming explosions and grunge, which sits perfectly under Mike and El trading destructive bars. It's also proof that another RTJ album was needed.

"Ooh LA LA" (feat. Greg Nice & DJ Premier) (2020)

This one sounds straight out of 1996 and is unapologetic about it. One of the song's highlights is El-P taking a snippet of Greg Nice's verse and turning it into the chorus. Additionally, Premo brings that old-school tenor to this one to make it one of the group's classics.

"Oh My Darling Don't Cry" (2014)

The second single off RTJ2, "Oh My Darling Don't Cry" features a vocal sample from Michael Winslow before more distorted ones continue to carry the track. The infectious and chopped-up samples of Joe Byrd and the Field Hippies' "You Can't Ever Come Down" offers a great touch to the booming bass that is sure to have your party going strong.

"JU$T" (feat. Pharrell and Zack De La Rocha) (2020)

"JU$T" begs the question that Killer Mike often does outside of music, which is, is America's political system the end-all-be-all when it comes to meaningful change in this country? In the song, he justifies why that's certainly not the case: see history.

"Down" (feat. Joi) (2016)

"Down" is a very introspective cut that has Killer Mike reflecting on his rough come up and his fear that he'll have to go back to living the street life if his music and business endeavors don't work out. It's one of the more somber RTJ tracks, as opposed to the normal beat-crushing, up-tempo numbers they're known for.

"36" Chain" (2013)

This one is self-described by RTJ (in the YouTube) as "equal parts Charles Bronson in "Deathwish" and LL Cool J circa "I'm Bad," as El and Mike brutally (and questionably) fight to rescue their furry, demented companion." We couldn't describe it better ourselves.

"Yankee And The Brave (Ep. 4)" (2020)

It had been four years between the third and fourth editions of RTJ albums, but the duo came back strong in 2020 with RTJ4 and "Yankee And The Brave (Ep. 4)" being a strong indicator of that. I mean, they're portraying themselves as superheroes in this, how incredible is that?

"Close Your Eyes (And Count To F**k)" (feat. Zack De La Rocha) (2014)

The third inclusion to RTJ2's three-headed monster of "Blockbuster" and "Darling," "Close Your Eyes (And Count To F**k)" has Mike and El trading bravado bars about the social ills of the world and even a Zach De La Rocha feature. It's perfect.