Watch: Outrage After Video of Mom Encouraging Daughter To 'Beat That A**' During A Vicious Teen Street Fight Surfaces
The violent clip has amassed over 120,000 views in just one day.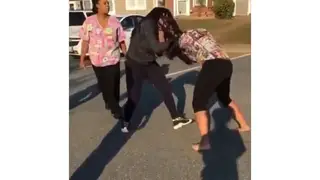 Usually when a parent sees their kid fighting it's a signal for them to run in and break it up.
That's not always the case though. This mom went viral for actually encouraging her daughter to prolong a fight with another young woman in a residential parking lot.
Throughout the video clip posted to social media, the older woman behind the fight, presumed to be a mother of one of the girls fighting, is heard repeatedly telling her daughter to "beat that a**" and yelled, "Get her hair then. Don't get up! Don't let her get up!" At one point, the woman's daughter grabbed a fistful of the other girl's hair and repeatedly punched her in the face.
Numerous people were standing around the fight watching. Several more watched it online. In just a day the video amassed over 120,000 views.
Social media is responding to the video. Most say the actions of the mother were deplorable.
"Despicable," a Twitter user wrote. "Not a bad scrap though..".
"This is sad," another person wrote in the comment section on WorldstarHipHop.
Watch the video below and check out the reaction to it here.