How Stacey Abrams Courageously Dismantled Republican Voter Suppression Tactics to Flip Georgia Blue
The voting rights advocate and Democratic rockstar turned her 2018 gubernatorial loss into a plan for victory.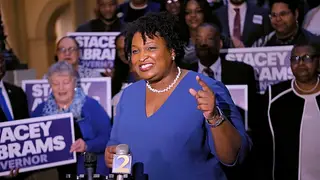 The morning of Jan. 6 found Georgia looking at a seismic political shift. In the November presidential election, the state had already turned blue by voting in Democratic candidates Joe Biden and Kamala Harris. But a senate runoff election further solidified the party's victory when Rev. Raphael Warnock narrowly defeated Republican incumbent Sen. Kelly Loeffler Jan. 5, while Democratic challenger Jon Ossoff is closing in on victory over GOP incumbent Sen. David Perdue, having claimed the win early Wednesday. It makes Warnock Georgia's first Black Senator, breaking the color barrier in a state with a complicated racial history.
The sea change was in large part due to the groundbreaking efforts of Stacey Abrams, the former Georgia state representative and one-time Georgia gubernatorial candidate, who lost a bitter race in 2018 to Republican candidate Brian Kemp, by just 55,000 votes. Kemp, who was Georgia's Secretary of State at the time, was responsible for voter registration and elections. Over the course of his tenure, he has cancelled hundreds of thousands of voter registrations, the Associated Press reported. A significant portion of those registrations belonged to people of color. He denied any wrongdoing, but Abrams made it clear that the election was not run fairly and vowed to do something about it.
After the brutal defeat, Abrams was urged by many to run for the U.S. Senate, but when Sen. Johnny Isakson retired for health reasons in 2019, she opted not to. Instead, Kemp appointed Loeffler to serve out his term. "The Senate provides a singular platform from which to address the issues of access to justice, economic security, health care and restoring the integrity of our nation's democracy," she said at the time in a Twitter message, according to Vox.com. "I do not see the U.S. Senate as the best role for me in this battle for our nation's future."
Abrams took a different approach in deciding to focus on getting grassroots support for voter rights. She founded voter advocacy group Fair Fight, a grassroots organization centered around defending the rights of each Georgian to cast a ballot.
Fair Fight got to work, along with the New Georgia Project, registering 800,000 new voters in the state. Many of them first time voters under the age of 30 and voters of color. Other African American women like LaTosha Brown who co-founded the Black Voters Matter Fund, and Deborah Scott the longtime Atlanta community advocate, who founded Georgia Stand Up, all led years-long efforts to change Georgia's body politic to a more progressive outlook. 
"In the wake of the 2018 election," said Abrams. "I had some time on my hands and, of course, as folks know, I really wanted to focus America's attention on voter suppression, not just what happened in my election and to the voters in my state, but what was happening around the country."
Her new organization prepared the state to deliver a major upset during the November 2020 election. Fair Fight registered nearly 500,000 new voters to cast their ballots in the highly contentious presidential race, mostly millennials and people of color with a resounding fundraising sweep of more than $32 million, the Atlanta Journal-Constitution reported.
"We've come close time and time again," Abrams said during a rally in Atlanta in November. "Every time is a building block, and we're building toward a blue wall in Georgia."
Abrams and the other Black female organizers dedicated to voter reform delivered Biden a historic victory, turning Georgia blue for the first time since 1992 when Bill Clinton took the state. So much so that even outgoing President Donald Trump mentioned her by name during the now infamous phone call made public by The Washington Post with the Georgia Secretary of State's office. 
During the call, Trump can be heard pressuring Sec. of State Brad Raffensperger to overturn the election results by finding the nearly 12,000 votes needed to make him victorious in Georgia. He can also be heard seemingly intimidated by the impactful efforts made by Abrams. 
"Stacey Abrams is laughing and she's going around saying these guys are dumber than rocks," Trump said during the call. "What she's done to this party is unbelievable, I tell you."
TAKING THE SENATE
While Democrats were victorious in the presidential election, that still left nine additional weeks in limbo for the Georgia Senate contests as none of the candidates received more than 50 percent of the vote. It put Abrams and her squad into overdrive as they continued to raise funds totaling $34.5 million in 39 days between late October and late November, according to the Atlanta Journal-Constitution. 
The senate race also caught the attention of powerful celebrities. For example John Legend, Common, Kerry Washington, Tracee Ellis Ross and others did work with the campaigns and appeared in Zoom calls to benefit the Democratic candidates, The Hollywood Reporter said. Other stars like Selena Gomez, Yara Shahidi, Issa Rae, Keke Palmer and Steph Curry all participated in Fair Fight voting videos.
During a virtual town hall hosted by Oprah Winfrey on Jan 4, Abrams outlined what was at stake and why it was important to overcome voter suppression.
"More than 3 million have voted," she said, according to ESSENCE.com. "Of that 3 million, 112,000 people voted in this early vote who did not vote in November."
She explained that the significant amount of people who were young voters mattered and a major part of that number were African Americans. "We are turning out people who saw what happened in November and believed that if they show up this time, we can get even better."
But in another tweet, pinned to her account, she also indicated that victory is sweet, but the work is not over.
"With new votes joining the tally, we are on a strong path," she wrote. "But even while we wait for more, let's celebrate the extraordinary organizers, volunteers, canvassers & tireless groups that haven't stopped going since Nov. Across our state, we roared. A few miles to go...but well done!"
With historic Democratic wins in the Senate, is there a future for Abrams to take another shot at running for Georgia governor in 2022? Is there a spot for her in the Biden/Harris administration? Where will she be taking Fair Fight next? All of it remains unclear for now.
Even in victory, she hasn't stopped focusing on voting rights in Georgia saying that it is in fact just a microcosm for the work that needs to be done in other disenfranchised areas around the country. On CNN Wednesday morning, she was critical of Raffensberger who many were calling a hero for refusing Trump's repeated attempts to change voting totals in his favor, saying: "This is the same man who participated in voter suppression when he became Secretary of State. He's defending the election he's responsible for. He's not defending the rights of voters."
Voter suppression issues have surfaced in states such as Mississippi, with its tight voting restrictions, and Louisiana, which was sued by the NAACP Legal Defense Fund for not ensuring safe voting. Abrams said that there's more work to help those states turn blue as well.
"It's not going to happen overnight" Abrams told Stephen Colbert on CBS' "The Late Show with Stephen Colbert on Jan. 5. "Demography seems to precede electoral changes, but I do believe it's possible to build the infrastructure we've built here in Georgia in other states. I think it's possible to engage voters who are usually left out of the process in other states, and I think it's possible for us to win in other states if we do the work of investing, organizing and mobilizing our voters."