This Record Label CEO Issued A Major Warning About Pusha T: 'We Can Smash Him Anytime'
Uh-oh...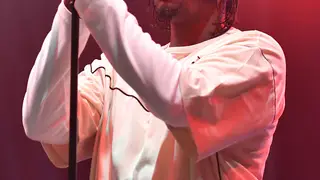 Tensions between Drake and Pusha T are warming back up after what fans thought was the end of their volatile summer rap war, which ended in Pusha's blistering "Story of Adidon" Drizzy diss followed by a ceasefire from music's revered label and industry chief, J. Prince.  
While both rappers have laid their lyrical pistols to rest, recent interviews with both King Push and the 6 God giving their sides of the bad blood is silently sparking even more distance between them. Especially after Pusha T dropped a major bomb on the OVO camp with claims that Drake's bestfriend, Noah "40" Shebib, was the mole who leaked the details about Drizzy's child to a woman who then brought the private information to Pusha.  
Just when hip-hop thought the men were on the straight and narrow, steering clear of any more shots, the testimonies from both of them appear to be driving their relationship left yet again. Thus, J. Prince is stepping between them yet again, but this time, with a statement that might not go over well with King Push.  
J. Prince dropped in on 'TMZ' for a quick powwow where he explained his belief behind Pusha's latest claim

According to him, the Daytona rapper is simply executing damage control after Drake's "The Shop" interview with LeBron James where he disclosed the shameful betrayal of Kanye West, Pusha's GOOD Music founder, and his role in the rap war. When reporters mentioned that J. Prince might need to draw up another treaty to keep the men from spreading any more hostility, he said that the beef is pretty much nonexistent at this point.

'Pusha, he's like an ant to us,' J. Prince said…

"Like an ant that crawl around. We can smash him anytime we choose to if that's something we wanted to do. But that's not the case here." As far as J. Prince is concerned, he continued, the beef is dead despite the recent developments in the King Push versus 6 God saga.

Hear his latest statement on the controversy in the video below.