Georgia Senate Debate: Rev. Raphael Warnock Trades Barbs With Sen. Kelly Loeffler As Both Occupy Polar Political Ends
While two candidates spar with each other, another wound up debating himself.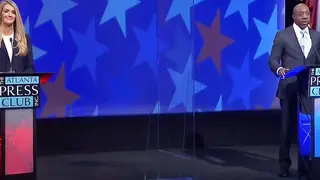 The two Georgia U.S. Senate debates that took place Sunday evening amounted in a sparring match in one case and a literal one-sided contest in the other.

Three of the four candidates competing for the congressional seats, which would determine the balance of power along with how easy it will be for President-elect Joe Biden to advance his agenda, came to passionately express their platforms. But a fourth did not show up.
All of them are hoping for a win in a Jan. 5 runoff, which was triggered when none of the candidates got more than 50 percent of the vote in the November election last month.
Rev. Raphael Warnock, the Democratic challenger to Republican incumbent Sen. Kelly Loeffler pressed his opponent on being an "appointed" senator since she was put in the role by Gov. Brian Kemp to replace Sen. Johnny Isakson a year ago. And, in one of the more controversial moves on her part, Warnock pushed Loeffler to express her sentiments about the 2020 presidential election, asking her directly if Donald Trump lost. She never gave a clear answer, only stating that Trump had the right to question the election results and claiming there were thousands of uncounted ballots. Georgia has already certified its election results with Biden as the winner.
Loeffler constantly countered by calling Warnock a "radical liberal" and bringing up his relationship with Rev. Jeremiah Wright, who had run into controversy during Barack Obama's 2008 campaign over a sermon in which the Chicago preacher was accused of cursing America.
She also brought up the time former Cuban leader Fidel Castro visited New York's Abyssinian Baptist church in 1995 when Warnock served as a youth pastor there, accusing him of hosting Castro. However, there's no evidence that Warnock had anything to do with organizing the event.
"It's clear to me that my opponent is going to work really hard, spending millions of dollars of her own money, trying to push a narrative about me because she's clearly decided that she does not have a case to be made for why she should stay in that seat," said Warnock.
Loeffler consistently said through the debate that Warnock was anti-police and a socialist. "He's called police officers gangsters, thugs, bullies, a threat to our children. He's called for our prisons to be opened up and emptied out. He's called for the abolishment of the cash bail system. Look, he doesn't care about safety and security in any community," said Loeffler.
The Warnock-Loeffler debate was not the only event of the evening. Democrat Jon Ossoff was present to debate incumbent Sen. David Perdue. However, Perdue was a no-show for their meeting, leaving Ossoff to debate an empty podium.
"It shows an astonishing arrogance and sense of entitlement for Georgia's senior U.S. senator to believe he shouldn't have to debate at a moment like this in our history," said Ossoff.
Perdue did say last month that he would not participate in a debate, according to The Hill. His campaign claims that since he outpaced Ossoff in votes during the November election, there was no need to participate in Sunday's debate. Still Ossoff aimed at Perdue's opposition to $1,200 stimulus checks for Americans in need and had he attended, he planned to ask him why.
"If I had the opportunity to ask the senator a question, if the senator were not too much of a coward to debate in public, then that's what I'd ask him," Ossoff said.
Georgians who wish to register to vote must have mail-in registrations postmarked by Monday (Dec. 7), or register online by 11:59 p.m.