Kelly Rowland Has No Time for Guiliani's Anti-Beyoncé Comments
She has a strong message for the former NY mayor.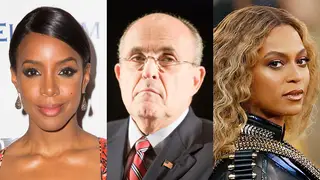 Beyoncé has been facing a ridiculous level of backlash from white conservatives over her hit track "Formation" and accompanying video, which only serves to prove her point that "you know you that b***h when you cause all this conversation." The media has run itself ragged churning out think pieces about the messages behind the unabashedly pro-Black song and video, and the feathers it's ruffled among the white establishment. 
But Kelly Rowland isn't interested in all that talk — instead, she has a very simple message for the haters, particularly former New York mayor Rudy Guiliani, who said that Bey's super-woke Super Bowl 50 performance gave people a "platform to attack police officers."
"I think that we live in a country where you have the freedom to say how you feel and talk," she said at a pre-Grammy party on Friday. "And it's really from a peaceful place. I think that they're blowing it out of proportion." She then added, "Giuliani should just shut up."
Tell 'em, Kelly!
Beyoncé has kept quiet on the criticism thus far, letting her art do the talking, but it is great to see that those who know her best are coming out in support of her message.
(Photos from left: Alison Buck/Getty Images, Matt Stroshane/Getty Images, Ezra Shaw/Getty Images)