Judge Ketanji Brown Jackson Has Street Named After Her In Hometown
"People from here as elsewhere, really can follow their dreams," Justice Jackson said.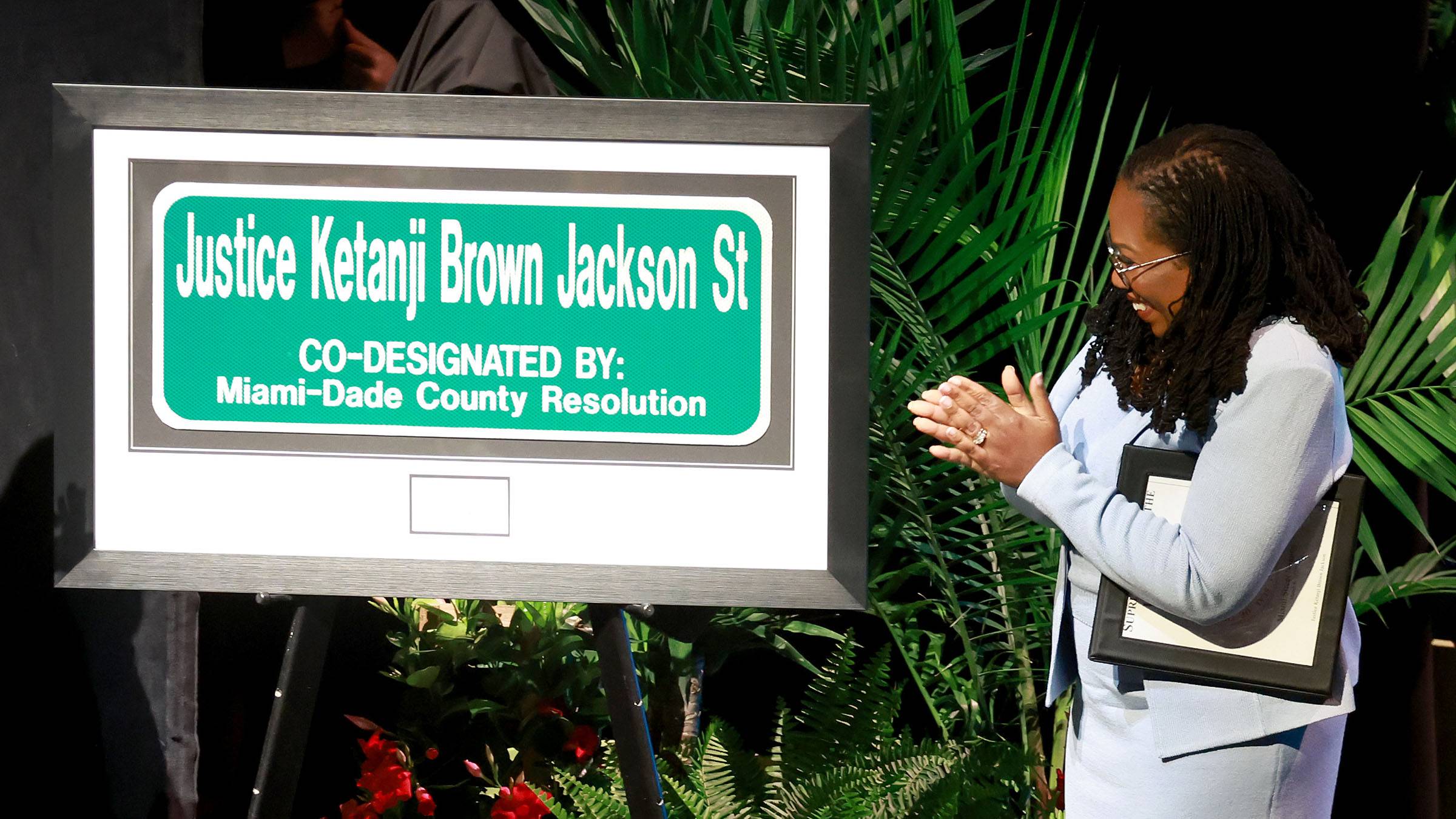 Judge Ketanji Brown Jackson has been honored in her hometown of Miami, Florida.
According to the Associated Press, a street in Miami-Dade County that runs for approximately three-quarters of a mile just west of Biscayne Bay will be named Supreme Court Justice Ketanji Brown Jackson. Jackson was at the naming ceremony at the Dennis C. Moss Cultural Arts Center in Cutler Bay and said to the crowd, "To have my name so prominently displayed on a street in a community that has given me so much, that is a very special honor."
She also added, "My experience confirms what we know to be true — which is that this is a wonderful place to grow up. And, I think it also means that people from here as elsewhere, really can follow their dreams. I hope that is the takeaway from all of you from this wonderful street-naming event."
Jackson was born in Washington, D.C., but grew up in Miami. She was class president at Miami Palmetto High School and was heavily influenced by her father Johnny Brown, an attorney who became chief legal counsel to the Miami-Dade County School Board, who she watched study law. Jackson graduated magna cum laude from Harvard University and earned her law degree from Harvard Law School, where she was editor of the Harvard Law Review.
She began her legal career journey as a Supreme Court clerk for Justice Stephen Breyer, who she has credited with guiding her for decades in her various positions. From 2005 to 2007, she worked in the D.C. Office of the Federal Public Defender, where she handled major cases including serving as a defense attorney for terror suspects held at Guantanamo Bay. In 2009, President Barack Obama nominated her to become vice chair of the U.S. Sentencing Commission, where she impacted sentencing guidelines for federal judges.
In 2012, Obama then nominated her for the U.S. District Court for the District of Columbia in 2012, where she was confirmed by a bipartisan group of senators the next year. In 2021, Jackson was one of Biden's first judicial nominees as president and she took her seat, again with bipartisan support on the U.S. Court of Appeals for the D.C. Circuit.
Last year, Breyer, 83, announced he would be retiring from the court. Nominated by President Joe Biden, Jackson became the first Black woman to sit on the U.S. Supreme Court and the third African American to take a position as an associate justice.