INTERVIEW: Missy Elliott Talks Fashion, Self-Care, And The Advice She Would've Given Herself 20 Years Ago!
The musical icon spoke with BET.com surrounding the launch of PATRÓN EL ALTO.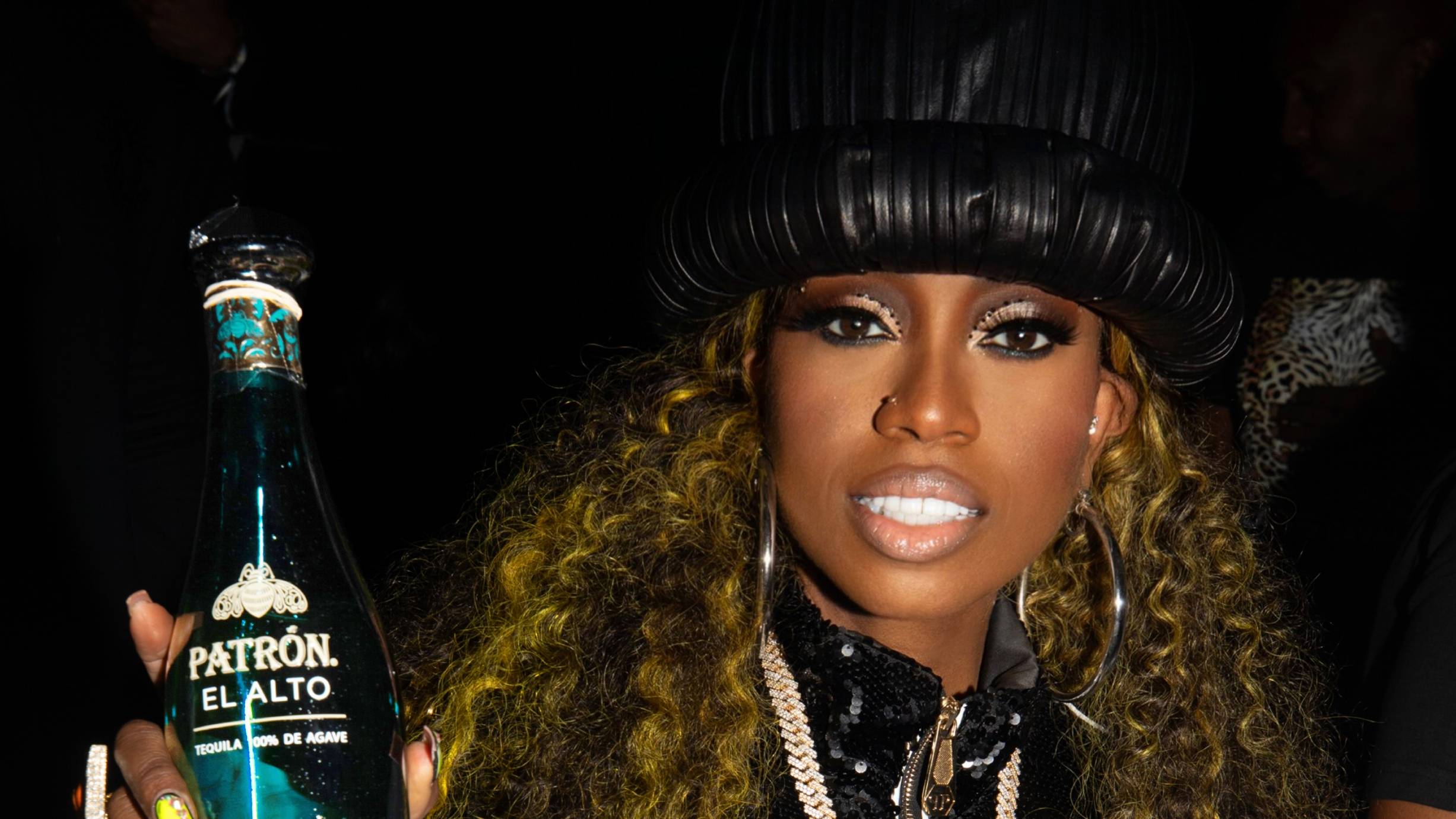 Missy Elliott is a visionary, an icon, and an overall style savant. This past weekend, the music maven celebrated the 20th anniversary of her second album, Under Construction, and Madame Tussaud's wax figure in Las Vegas in partnership with PATRÓN.
She surprised guests with an epic performance and had the crowd rocking to a medley of her hits for the launch of PATRÓN EL ALTO, the brand's first step into the prestige category of tequila.
"PATRÓN EL ALTO stays true to PATRÓN Tequila's traditional roots in distilling while innovating in a way that achieves the best blended, aged tequila profile possible," said David Rodriguez, PATRÓN Master Distiller, via a press release.
In addition to the jaw-dropping performance where Missy wowed the crowd in a black and white sequin tracksuit, guests were invited to an intimate dinner with the artist to discuss her sense of style, her self-care regimen, and the excitement around performing in partnership with PATRÓN EL ALTO after a 3-year hiatus.
Dinner attendees included celebrities such as Lil Wayne, actress Brandee Evans, and music industry veteran Mona Scott.
Read the entire interview below: 
BET.com: You're an icon in music, fashion, and overall creativity. How does it feel to be an artist that transcends across decades?

Missy Elliott: It feels amazing. Especially celebrating two albums. I just did the 25th anniversary of Supa Dupa Fly, and now 20 years with Under Construction, it feels great when I look back and see the hard work and the risks taken. I believe that I was blessed with a gift, so looking back, it's great to see that my work wasn't in vain. I've worked very, very hard to get to this place; The wax figure, the doctorate, the songwriter Hall of Fame, the boulevard, and so on are very nice, but I'm really glad that those things didn't happen early on because I genuinely worked hard for it and it shows. 
BET.com: You started so many epic fashion and beauty trends: Colorful braids, finger waves, electic nail designs, bold sunglasses, unique outfits, and cool sneakers. How did you identify your personal style so early on?
Missy Elliott: My personal style early on was so crazy. Like, I know they thought I was crazy (laughs). Well, when I was in junior high school, I most definitely was wearing what everybody else was wearing. It was the fat shoe laces, the whole Run DMC, Adidas thing. We were wearing Penny Loafers with taps on the bottom of them. But when I got to high school, I just started doing stuff differently. I would wear an All-Star on one foot and Puma on the other, with a trench coat. I just wore whatever I felt at the time. And nobody looked at me like I was crazy. So when I put on that blow-up suit with the finger waves, it was like, 'whoever this girl is, this is her.'
BET.com: You're a trendsetter and have inspired so many artists with your hair and overall beauty choices. Was that intentional?
Missy Elliott: No, not really. I just love being creative and wasn't afraid to try different things. I did whatever I felt at the time. With all that Pro-style gel in those finger waves, I know I was keeping their lights on. That black gel in my hair was getting on everything (laughs). 
BET.com: As a visionary, where do you continue to draw inspiration from?
Missy Elliott: I like to look at a lot of old stuff.
I'll watch James Brown over and over again. I'll watch Michael Jackson stuff over and over again.
I like to listen to a lot of eighties music because I think that's the most experimental era for me.
I feel like, in the eighties, every genre of music was popping. I like to go back and listen to it and figure out ways I can incorporate it now. 
BET.com: How do you unwind as a busy artist? Do you have a self-care regimen?
Missy Elliott: I'm introverted in a way. So when people see me out, it is like seeing a hologram (laughs). But I like to hike. I hike every morning, 28,000 steps. And I like to vacation in Jamaica. I've only been on vacation three times in my life, but I love to go to Jamaica. For the last couple of weeks, I've been going to the movies. But I want to go to Six Flags. It's probably too cold now, but I want to try to get there. My assistant and my homegirls say, 'Missy just did the biggest thing; let's go out and celebrate.' Or  'Missy just did the Super Bowl; let's go to dinner.' I would say, 'no, I have to go home and mop the floor and take care of the dogs' (laughs). But I'm doing better, I'm starting to go out more. I'll go to a lounge from time to time.
BET.com: You're celebrating the 20th anniversary of your 2nd album. Can you tell us one piece of advice you would have given yourself back then?
Missy Elliott: I think the advice that I would give myself is not to give up. And aside from that, I think one of the things that I always say now is to continue to be fearless. Because nobody knows your vision better than you do. Nobody can tell your story as you can. You have to live it. I think about me and Tim, how we were so young coming in, and we didn't wait for somebody to tell us what song should come out. When you came to the studio, we were playing our music, and we were saying, 'Look, this is the first single and the second single.' We already had it, we didn't wait for approval.
Because once we start questioning, then we realize everybody doesn't have that vision that you have. They don't have that gift that you have, so somebody could come in and direct you and start to take you off your path. So always fight for yourself and believe in yourself and your vision.
BET.com: What is the secret to having longevity in this industry?
Missy Elliott: I would say being consistent.
I don't always think it's necessarily about how many records you sold. But the impact is very important. Of course, great music, and try to stay out of trouble. I think what made us able to have longevity is we didn't have Social Media. So there was a mystique that we were able to go do an interview, and we could cut it off. After I get done with this interview, I can go and do what I wanna do. But because of social media, we have these phones on us all day long. It's very difficult.

BET.com: How does it feel to be back on stage doing what you love in partnership with PATRÓN after three years?
Missy Elliott: It feels amazing, and PATRÓN has been so good to me. They are so supportive. They came out for the 25th anniversary of Supa Dupa Fly and my birthday, and they always do it big. Always. So now we are here celebrating EL Alto. It felt good being back on stage because I haven't been able to since COVID. I love being out there and touching people. I've been going out into the crowd since the beginning of my career. I would've gone further out into the audience if I could. So when COVID happened, it was a down period because I couldn't connect with my fans, but it felt so good to be back out there. 
This interview has been edited and condensed for clarity.