Hispanic Heritage Month: 5 Afro-Latino Artists and Groups Dominating the Music Scene
These unique talents will have you dancing like no other.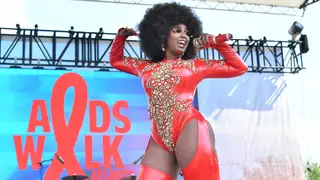 September is Hispanic Heritage Month, giving us a perfect opportunity to celebrate and cherish the Afro-Latino artists who connect their heritage to the musical expression they're famous for.
If you want to dance in September to honor HHM, we've got you covered. Below are five Afro-Latino artists and groups, including singers, rappers, and more, that will have everyone in a great mood at that final summer cookout, soiree, or simple get-together with friends.
Jenn Morel

Dominican artist Jenn Morel is the epitome of versatility. A rapper who's able to skate over EDM-inspired beats, she heavily broke onto the music scene in 2017 with "Ponteme," and has since released a steady stream of fast-paced and infectious music – most recently with her self-titled album and the even newer singles "Chapón," "Tempo" and "Woah."

Amara la Negra

Many may know Amara from VH1's Love & Hip-Hop Miami, but her musical acumen is her bread and butter. The Dominican singer released her debut album Unstoppable in 2019 with the easily danceable hits "What A Bam Bam" and "Insecure." Within her music and beyond, la Negra has been a staunch advocate of Afro-Latino culture and a huge figure in bringing awareness to colorism and Eurocentrism within the Latino community. She also launched "Grind Pretty, My Mom is the Bomb" in 2020, a weekly Instagram show where she and her mother highlight women entrepreneurs.

Cardi B

Afro-Latino music list would only be complete with Cardi B. The 30-year-old New York-based rapper of Trinidadian and Dominican descent has blessed the hip-hop world with hits like "Up", "WAP," the Bad Bunny and J Balvin-featured "I Like It,"  and most recently, "Hot S**t" (featuring Kanye West and Lil Durk). And while Cardi has been relatively quiet regarding her own musical output over the past few months, that's all changing now with the announcement of her new single "Bongos" with Megan Thee Stallion. Sounds like a new album is on the way.

Esperanza Spalding

Esperanza Spalding is a highly decorated singer and bassist with five Grammy awards and a Soul Train award, among others. She's also released eight studio albums – most recently being 2021's Songwrights Apothecary Lab, written and recorded over several months during her traveling music laboratory in collaboration with various musicians, researchers, and practitioners that united them all for the cause. It's part of Spalding's wider philanthropic efforts where she's advocated and provided funds for organizations like Free the Slaves and The Trust for Public Land.

ChocQuibTown

A Colombian trio of Carlos "Tostao" Valencia, Gloria "Goyo" Martínez, and Miguel "Slow" Martínez has been prevalent in the hip-hop-salsa fusion genre for quite a few years. Their 2016 hit ​​"Nuqui (Te Quiero Para Mi)" helped put them on the map in a big way, and they've been kicking ever since. Some of their newer hits include last year's "Bitcoin" and "Morena," if you're looking for a bit of catch-up.