2Pac's Stepfather Mutulu Shakur Set To Be Released On Parole In December
He has been incarcerated for over 35 years for a series of 1988 armed robberies.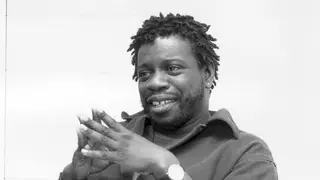 2Pac's stepfather Mutulu Shakur is set to be released on parole on Dec. 16th after imprisonment for more than 35 years, according to NBC News.
Shakur was serving a 60-year sentence for a 1988 conviction for leading a group of revolutionaries in a string of armed robberies in New York and Connecticut, including one that left three people dead. The 72-year-old was denied bond in 2016 though his cancer had been worsening.
"Dr. Shakur is a 71-year-old man who has been imprisoned for over 35 years, undergoing treatment for bone marrow cancer," Shakur's attorney, Brad Thomson of People's Law Office, told the outlet.
"He has been praised by current and former Bureau of Prisons staff, and BOP's assessment tools establish that he poses no risk should he be released."
The U.S. Parole Commission in October granted a request to release the activist and holistic healthcare advocate with the decision to grant parole made public on Thursday.
"There's still disbelief because we were steadying ourselves for another denial. Now folks are excited about being able to reunite Mutulu with his family. We were crying together. It's a long time overdue."
Muhammad has been trying to get Shakur released for an extended period.
"He was not exonerated. He was given medical parole, which means he could still be snatched back from us," Muhammad said.
"His release doesn't end his cancer. We're preparing for him to come home, and we have to figure out transportation because his condition has deteriorated so much that he can't fly commercial. He's been able to make it longer than the doctors have given him, but he still has cancer and is still dying."
Post-release, Shakur will be monitored for up to four months. Muhammad is "glad" that Shakur is still alive, and his supporters and family are working to secure his best medical care.