Iggy Azalea Is Taking a Much-Needed Break From Twitter
"Trouble" rapper goes on hiatus over paparazzi pics.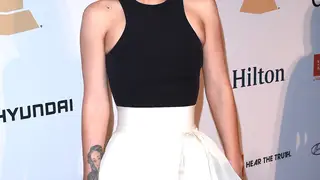 Pics of the pop star vacationing in a bikini circulated on the Web this week, prompting her to officially hand over her Twitter account to her management.
"Just got back from a great vacation, came online and saw apparently it's shocking and unheard of to be a woman and have cellulite. Lol," she wrote. "I just want to have peace and relaxation time without a perve with long distance lense hiding out taking pictures, everyone deserves peace."
That was only the beginning of her late-night rant. "I feel the hatred and pettiness i see online at all times is at making me become an angry person and I cannot be that," she explained. "To become nasty because of the way I feel iam treated would be a disservice to my fans and I promise i will try to keep smiling. ... But I also want to let my fans know iam taking some time away from social media. I need to be happy and it is too negative and draining."
Instead, she said she's taking the presidential route, "My management will tweet/run my accounts from today onwards with updates etc," she noted, "unless any message is signed -IA."
"I think she should focus on what got her here," her ever-supportive Grand Hustle mentor T.I. previously said, after the Aussie-born "Trouble" rapper waged a Web war over a Steve Madden photo shoot.
Apparently, in complete agreement, Iggy ended her social-media run with this observation: "The Internet is the ugliest reflection of mankind there is."
No word as yet on whether on not this applies to her Facebook or Instagram pages.
BET.com is your #1 source for Black celebrity news, photos, exclusive videos and all the latest in the world of hip hop and R&B music.
(Photo: Jason Merritt/Getty Images)