Rising Black Artists to Watch in 2022
From alt-R&B to hip hop to Afroelectro, these are musicians for all tastes to listen to in 2022.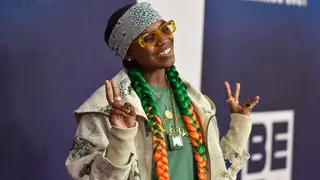 When making these lists, it's always great to listen to the music from these selected artists and then throw back to previous choices made from past entries.
Yet, with the sheer amount of offerings on digital streaming services from acts all around the world, how can one keep up with friends to talk about artists you've never heard of?

Don't feel like you're behind the times if you're unaware of talented voices like SAULT, Liv.e, bLAck pARty, Amber Mark. No worries, BET.com has you covered with this Black History Month-powered list of new(ish) acts who will be trending on charts for years to come.

From experimental Afroelectro to punk rock to alt-rap to good old-fashioned R&B, there is something for everyone from these 10 rising Black musicians.
Baby Keem

Two Phone Keem, aka Baby Keem, aka KDot's Lil' Cuzzo, made 2021 the year of the "range brothers" with his death-defying flows and inescapable soundscapes. 

Throughout the commercial debut of The Melodic Blue and only two years removed from Die For My B***h, the 21-year-old Las Vegas native has ascended to the upper echelon of new rappers in the game while inspiring his Pulitizer-winning relative to be memorable and outlandish at the same darn time on tracks like "family ties'' and the aforementioned "range brothers." 

Keem is a defiant and bold artist who will have hip-hop fans talking and clicking on everything he does, from more music to live experiences.

Leikeli47

Black Haüs

If there isn't enough Black Boy Joy in your rotation, please allow us to introduce you to the wonderfully punk and proud group known as Black Haüs. 

This Greensboro, North Carolina quartet made a lasting impression during 2020's AfroPunk Festival with songs like "Rich Petty" and "Burn It Down," maxing out speaker volumes and putting listeners in a raucous yet positive fervor. 

Bandmates Jeffrey, Taylor, Lyn, and Siid have blossomed from the small college underground scene to an impressive alt-rap/funk/punk rock group poised to create an emotional experience that cultured audiophiles should not miss.

Muni Long

"Hrs and Hrs" has become an undeniable smash thanks to the internet, TikTok, and Muni Long's scintillating vocal runs and lyrics. Before the world came to learn of Long's music, she was Priscilla Renea, an under-the-radar songwriter who penned pop hits for the music game's best and brightest (Rihanna's "California King Bed," Fifth Harmony's "Worth It").

Much like other singer-songwriters, Renea's slow-burn turned into a career redesign, and as Muni Long, the 33-year-old's R&B ballad grew viral on TikTok, becoming her first Billboard Hot 100 hit and endearing her to a worldwide audience. 

Muzi

Afrocentric music is branching out into other genres and incorporating native language that bridging the diaspora to Black American audiophiles. Leading the charge is Muzi, a South African producer and performer whose EDM beats merge maskandi vocals and consistently represents his native land proudly.

His debut album, 2018's AfroVision, revealed his talent, comparisons to Kaytranada and Black Coffee made with ease. 

For intrigued listeners, the WE.THE.BUNDU artist recently brought his unique style to America as he completed his first North American tour and dropped Interblaktic, his fourth studio album, which promises ethereal grooves layered over Afrofuturistic mantras.

Rexx Life Raj

Capella Grey

Yeeerrrrrrrr!!! The streets were very active when Capella Grey's "Gyalis" ruled last summer. Listeners couldn't escape the song's frenzy thanks to Grey's sticky sing-along verses and hooks mixed with his badman bravado.

As one of New York City's most promising stars, Grey has been steadily working on his debut project, which should promise to dominate summer 2022 whenever it releases. 

Already signed to Capitol Records, Grey is a welcome burst of energy in a time when we need it most.

Genesis Owusu

A real deal chalé of the people, Genesis Owusu's 2021 debut, Smiling With No Teeth, heralded the arrival of an Afrofusion artist blessed with an amazing ear and imagination. The Ghana-born, Australia-based multi-talented producer/performer delivers never skip-worthy offers that are imbued with melody, prose, and charm.

"Waiting On Ya (Remix)" is a healthy example of a song you'd expect to hear during an Everyday People party or at a backyard groove with friends. "Wutd" is a playful-yet-forceful addition to your playlist that makes Owusu's music feel like just the beginning of a deliriously fun mix to go see live.

Emmavie

This is not the first time you've heard Emmavie (pronounced Emma-Vee) and her sound before. In fact, it's not the first time this writer has talked about their deeply rich audio experimentation. 

Billed as a "star of the now," this Londonite is building up a solid resume of hits ("Tune," "Distraction"), collaborations (Alfa Mist, Phonte), and projects (Epoch) that will have any audiophile eagerly happy and singing her praises. 

Don't miss out on a chance to learn more about this do-it-all artist poised to deliver big tings in 2022.

Marzz

Keep Cool is already noteworthy for curating the sound of today's R&B scene. From voices like Lucky Daye to VanJess to Normani, the label has offered hits that have shifted the culture and tone of the music as we know it.

Adding onto the shift is Marzz, a Louisville, Kentucky native whose lilting vocals and earnest lyrics have made her a standout on TikTok, Instagram, and Twitter. 

Her debut EP, Love Letterz, and its ethereally vibey single, "Countless Times," was so inspirational that Timbaland recently invited the minister's child to record several tracks. Expect lush, perfectly sung R&B from her as World Is Marzz is due later this year.