Here's When The Soulja Boy Vs. Chris Brown Celebrity Boxing Match Is Going Down
It's not when you'd think...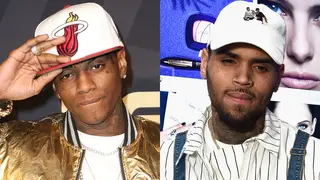 Unfortunately, we've got some bad news for those who have been at the edge of their seat waiting to see when tickets would finally be available to witness Soulja Boy take on Chris Brown in the boxing ring.
Taking to Twitter, Soulja decided to air some grievances against Brown, claiming that the fight no longer will be happening because Breezy apparently refused to sign their contract to make the match official.
"Can't believe this n***a scared to fight me sign the contract B***h A** n***a set up the boxing match," Soulja posted on Twitter. 
He then elaborates that he thinks his reputation scared off Breezy, leading to the singer backing out of the much-discussed event.
"I caught two fades in the streets since this whole beef s**t and I won both fights I guess Chris must heard and got scared lol come on boy," he continued. "N***a talked all that S**t just to back down and not sign the paper work. Not about that life. No action. Don't wanna hear about this ever."
Something tells us this isn't going to be the last time we'll hear about this, even though it appears as though the match fell through for now and Soulja is 'over it.'
Take a look at Soulja Boy's Sunday afternoon rant in the screengrab below.