Sixth Officer Terminated After Involvement In Tyre Nichols' Death
An internal police investigation found that Preston Hemphill violated multiple department policies during the violent-turned-deadly arrest.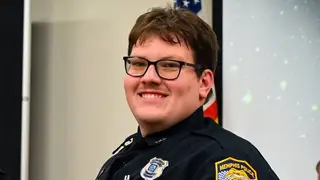 The Memphis Police Department announced Friday (Feb. 3) the termination of a sixth officer involved in the brutal arrest and killing of 29-year-old Tyre Nichols.
According to AP News, Preston Hemphill was placed on suspension while MPD issued a "thorough investigation" into his participation in the Jan. 7 arrest that led to Nichols' death. One of Hemphill's multiple violations included "rules surrounding the deployment of a stun gun," according to officials.
"After a thorough review of the circumstances surrounding this incident, we determined that Officer Preston violated multiple department policies," MPD said in the statement shared on its social media. The violations include personal conduct, truthfulness and his use of a taser, among others."
Police announced Hemphill's suspension on Monday (Jan. 30), but say his suspension was put in place a short time after Nichols' arrest. Police spokeswoman Karen Rudolph said Hemphill's suspension was not immediately announced because he had not been fired from the department at the time.
Nichols, who left behind a four-year-old son, endured a brutal beating at the hands of officers from Memphis' Scorpion unit over what they claim was a traffic violation. In the video released by the city of Memphis, officers are seen punching, kicking, and holding Nichols down as he pleads for mercy.
Hemphill was the third officer at the traffic stop before the arrest. He was not at the location where Nichols was beaten after evading police presence. Hemphill was heard saying on the body camera footage during the initial stop of Nichols that he used a stun gun against the 29-year-old skateboarder/Fed-Ex worker, stating, "I hope they stomp his ass."
Five officers – Tadarrius Bean, Demetrius Haley, Emmitt Martin III, Desmond Mills Jr. and Justin Smith – have been charged with second-degree murder, kidnapping, official misconduct and official oppression, prosecutors said. All five officers charged are Black; Hemphill is white.
"This is still an ongoing administrative investigation, and multiple MPD officers are under investigation for departmental policy violations," the police department said.