Stereotypes Of A Black Quarterback Misunderstood: Lamar Jackson Just Took A Big Step In Silencing His Critics
The Ravens QB led his team to a victory.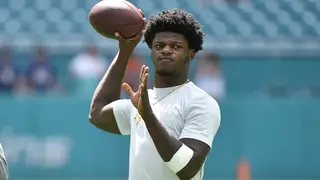 "Not bad for a running back." Those were the words uttered by Ravens quarterback Lamar Jackson after he led his team to a 59-10 victory on Sunday (September 9) over the Dolphins. 
Jackson was 17-20 (85%) for 324 yards, five TD's and no interceptions. He finished the game with a perfect 158.3 passer rating and sat out the 4th quarter. 
He was selected No. 32 overall by Baltimore in the 2018 NFL Draft. Many so-called draft experts questioned his ability to be the "prototypical" NFL quarterback. They questioned his accuracy, decision making and the "intangibles" necessary to succeed at arguably the toughest position in sports. 
When he took the starting job in Baltimore last season from incumbent Joe Flacco and led the Ravens to the playoffs, Jackson didn't do much to silence those critics. He played well, but the offense relied heavily on his ability to run the football. He had average passing numbers at best. 
All off-season the talk was that Jackson was more of a running back than quarterback. He relied too much on his legs and couldn't make the adjustment to become more of a passer. 
The comments from the "experts" like Mel Kiper Jr. and Bill Polian on Jackson heading into the draft were buzzing again. Polian famously said:
"I think wide receiver. Exceptional athlete, exceptional ability to make you miss, exceptional acceleration, exceptional instinct with the ball in his hand and that's rare for wide receivers. That's AB, and who else? Name me another one, Julio's not even like that...clearly, clearly not the thrower that the other guys are. The accuracy isn't there."
The draft commentary by Polian was lazy at best. In actuality, it was rife with all the stereotypes that have been made about Black quarterbacks for decades. 
While White quarterbacks, like the Bills' Josh Allen, are always given the benefit of the doubt and an opportunity to improve, the same can't be said about Blacks. 
This was a big step in the right direction for Jackson to silence the critics and doubters. He won't have the good fortune of playing a poor defense like the Dolphins every week. 
But if the Ravens continue to support him with the necessary talent and infrastructure, and he continues to work at his craft, there is no reason why he can't be an excellent quarterback in the NFL. Sunday was proof of just that.