Algee Smith Speaks On That Hazing Scene From 'Euphoria,' Playing A Disney Prince & Why 'All Girls Matter.'
Plus, Algee Smith is ready to steal your heart with his voice on new project, ATL.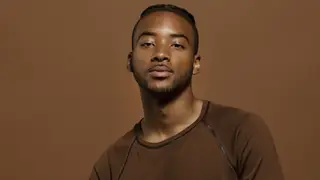 Algee Smith's rise to the top hit a literal bump early in 2019. The 24-year-old actor and singer was on his way home to his apartment in Los Angeles after a day of filming his hit series Euphoria when his elevator stopped moving. He was close enough to his own floor for his home Wi-Fi to connect, but the door just wouldn't open.
"That was scary, bro," he says retelling the incident with a relieved chuckle. He's sitting across from me at a conference room table laughing to himself at how the incident has lived on. "How did that get on Youtube?"
After calling emergency services, Smith chose to kill time by jumping on Instagram Live and talked through the 20-minute ordeal with his millions of followers. His unbraided hair peeked out from under an orange hoodie as he ran through a gamut of emotions. His brother and the people in his phone were his only company as he did push-ups and contemplated writing movie scripts about this experience.
"I just wanted to capture moments like that. Everything isn't so polished. My life isn't polished so I feel capturing moments like that is fun."
Being vulnerable in front of a camera is what actors do, so it didn't seem odd to dial up an audience as the elevator shook with indecision. However, that moment of crisis paled in comparison to the labyrinth of poor decisions his character Chris McKay and the other dysfunctional teens on Euphoria contend with on a daily basis.  The first season of the HBO drama follows a recovering addict named Rue Bennett (Zendaya) as she fights off relapse while trying to be a good friend and sibling to Jules (Hunter Schafer) and Gia (Storm Reid).
Algee's McKay is a star football player entering his first year in college and is contending with those challenges while still trying to remain connected to his girlfriend Cassie Howard (Syndey Sweeney) and his best friend Nate Jacobs (Jacob Elordi). Euphoria is a hard but compelling watch, exposing a dirty underbelly of teenage life that is disturbing yet honest.
"I think that the responses exceeded my expectations," Smith says of the show's quickly growing fanbase. "I knew it was going to be a really big show because of the things we were doing and the people involved. It's very interesting to see a lot of different opinions on McKay. I think it's all important because it opens up conversation. I knew a lot of people like McKay growing up who were into sports. It's interesting to see people's take on it and their opinion as the season goes on and we got a lot more to unravel as well."
The disarming thing about Euphoria is that just when you want to root for a particular character, they betray your trust by doing something socially unacceptable, but like a wreck on the side of the highway you can't look away. Whether it's out of concern or morbid curiosity depends on the viewer.
Algee originally auditioned for the role of Ethan (Austin Abrams) but after having lunch with writer and director Sam Levinson, Smith pivoted to McKay.
"The first audition was cool but it wasn't it," he explains. "So, by the end of the meeting I felt like this is who I'm supposed to play."
In real life Algee was a home-schooled Atlanta kid and didn't even attend his own high school prom, but that doesn't keep him from connecting to the characters on the show. Many fans wonder why McKay, a college freshman, still tethers himself to his high school life, but Smith understands.
"His best friend is in high school. His girlfriend is still in high school, you know. Everything that he just left is in high school so he doesn't know anyone at this new college, it's his freshman year. He's also trying to figure it out. It's kind of like when I went from 17 to 18, people ask how you feel and it's just a year, it doesn't feel that different. The things around me changed.  But for him I think there's so much that he's still involved in his life that he just can't let go of. The new college thing hasn't really set in for him yet."
In fact, college has been a source of trauma for McKay, who is pledging a fraternity on campus.  In one very unsettling scene in episode six, McKay is having an intimate moment with a visiting Cassie when his big brothers bust into the dorm room wearing masks and assault him. He is dragged to the floor naked as they pin him down screaming "McGay!"
The moment is textbook psychic violence in that we are just as disturbed by what is implied out of frame than what we actually see on the screen. All we have to go on are McKay and Cassie's reactions, which indicate something terrible indeed took place.
"To be honest, on set it wasn't as horrific as it looks on screen," he says of filming the scene. Algee went back to his trailer and listened to Tupac when it was over.  "It was still a crazy scene when you watch it. Played back it just looks very scary. But on set there was just a lot of physicality going on."
Algee says the ambiguity of the scene is what made it work, offering no more clarity on the incident than what is portrayed on screen.
"That tripped a lot of people out. A lot of people still have questions about that and I think that's really cool. I think unanswered questions are really good because it keeps you coming back and watching, you picking apart different pieces."
While Euphoria fills its shopping cart with every societal ill from rape and assault to drug addiction and body dysmorphia, noticeably absent from the grocery games is racism. Sexual and gender identity are front and center, but the race of the characters is never discussed, leaving some to wonder if the omission is intentional.
"I'm not sure if it's by design. I would definitely say there is room to do it," Algee says. "Only because we've opened up a box of talking about so many things. I don't see why that can't be discussed as well. I go on Twitter and people ask 'where are McKay's Black friends?' I don't think it's too much of a touchy subject at all. We talk about so many things that are important why not talk about that?"
Filming for season two is still months away, so Algee is currently indulging his love of singing and reading scripts for other projects.  Fans have been wish-casting him as Prince Eric in the live action Little Mermaid ("Halle Bailey is in it. It would be great to work with her.") but he is focused on being every woman's leading man. His upcoming collection of new music, ATL, leads off with the celebratory, "All Girls Matter."
"I wanted to make every woman feel special," he explains. "There is a certain stereotype of what a beautiful woman looks like or a 'bad chick' or whatever you wanna call it and I want to make the girl who is sitting at home feel just as important as who she's following. I got 2 or 3 Million followers and when you look in the mirror, all that glitz and glamor don't matter. You gotta look at your soul. Every woman matters." McKay could take some lessons.
Being a man with sensitivity is very on brand for Smith, who portrayed R&B star Ralph Tresvant in BET's The New Edition Story and Being Bobby Brown.  When Algee played his 2017 EP, Listen, for Tresvant, he got some sage advice from the vet.
"He told me to always follow my heart and do what I want with the music," says Smith. "That's the one thing that I got. Not being afraid to try things."
With future wedding chapel staples like "All Yours" and "My Kind Of Beautiful," soon to hit the masses, Algee should get to work on that elevator script, because he's about to have a lot more people watching his moves.