Diddy Awarded Key to NYC by Mayor Eric Adams
The honor comes on the heels of his new project, "The Love Album: Off the Grid."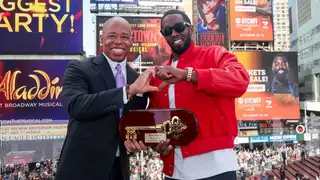 Fresh off of receiving the 2023 MTV Global Icon Award at the VMAs earlier this week, Sean "Diddy" Combs has garnered another prestigious honor.
The hip-hop legend and Harlem native was awarded the Key to the City of New York by Mayor Eric Adams.
"Receiving the Key to the City of New York, the very city that molded me, is an honor and incredible moment in my life," Combs said. "From growing up on the streets of Harlem to the international stage – New York's energy and resilience have always been the backdrop of my story. This city has given me triumphs, life lessons and love. Today, I accept this key not just for me, but for every dreamer, every hustler, every artist, and every kid from New York who dares to dream big."
"To Mayor Adams and the city of New York: I promise to keep giving to this city that made me, Thank you for recognizing my journey and my mission to uplift and empower," Combs added. "Let's continue to make history together."
After the ceremony, Combs performed three songs in celebration, including his new leadoff single, "Another One of Me."
The video for the single, featuring The Weeknd, French Montana and 21 Savage, premiered on Times Square screens this week.
"The Love Album: Off The Grid" was curated under Combs' Love Records imprint and features a star-studded lineup including Justin Bieber, Mary J. Blige, Jazmine Sullivan, H.E.R, Summer Walker, Babyface, John Legend, Swae Lee, Teyana Taylor and Coco Jones.
"I've been blessed to actually go off the grid," he said. "I've been blessed to be in love. I've been blessed to have my heart broken but then be able to get back up, and love again, and not give up on love. Even after all the different things that I've been through and what I've put people through, I still haven't given up on love."